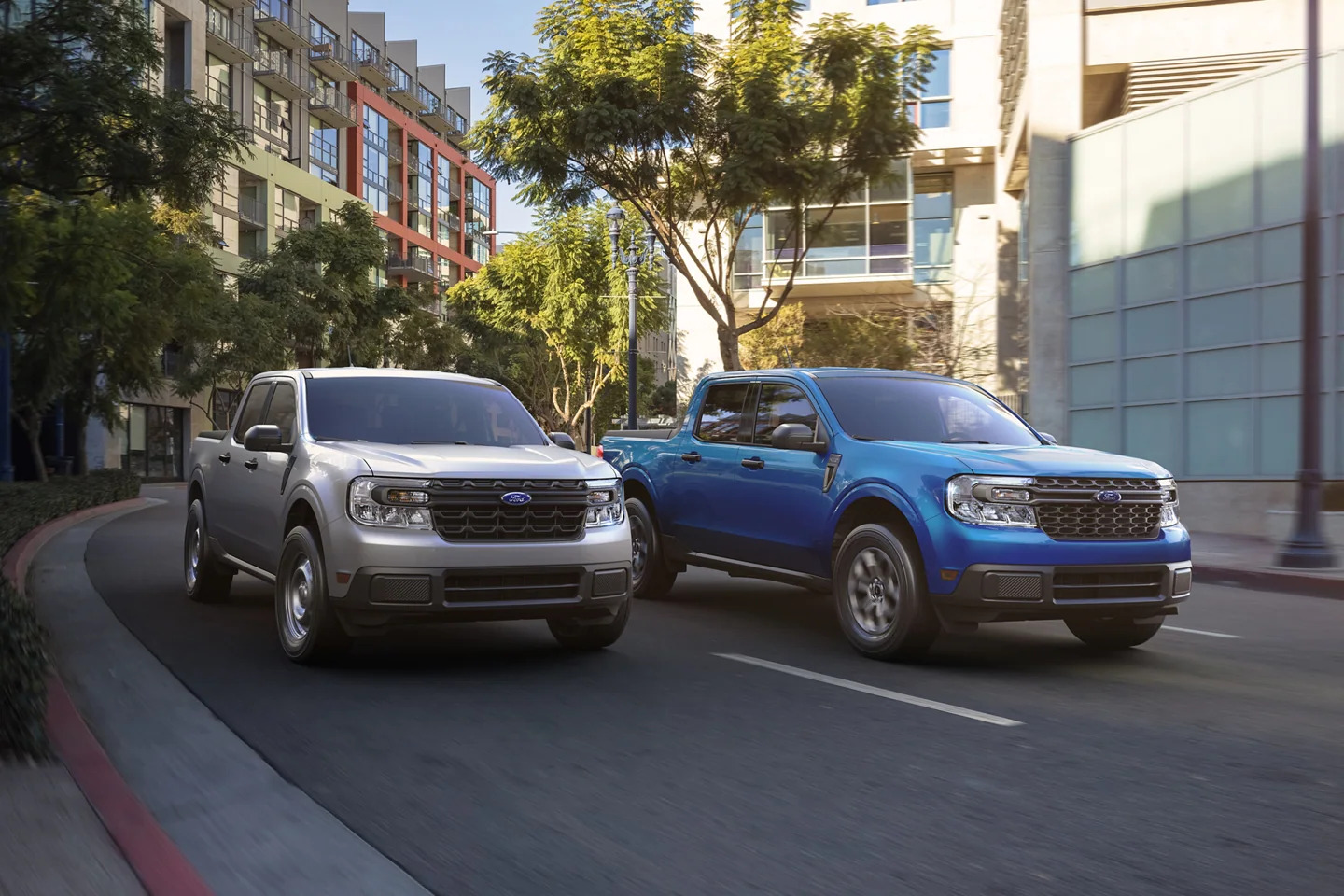 PROS

CONS

VERDICT

A compact pickup, affordable, and utilitarian, it has a lot of features as standard.
Hybrid version is fuel efficient.
It has a lot of optional extras and packages available.

The low cost means cost cutting on the interiors.
Payload and towing capacity are severely limited.
Engine is not powerful enough at highway speeds.

Ford has finally given what many people have been asking for: a low-cost small pickup truck.
The Maverick delivers a pickup experience that is poles apart from other full and mid-size pickups in this day and age of enormous bulky pricey pickups.

What's interesting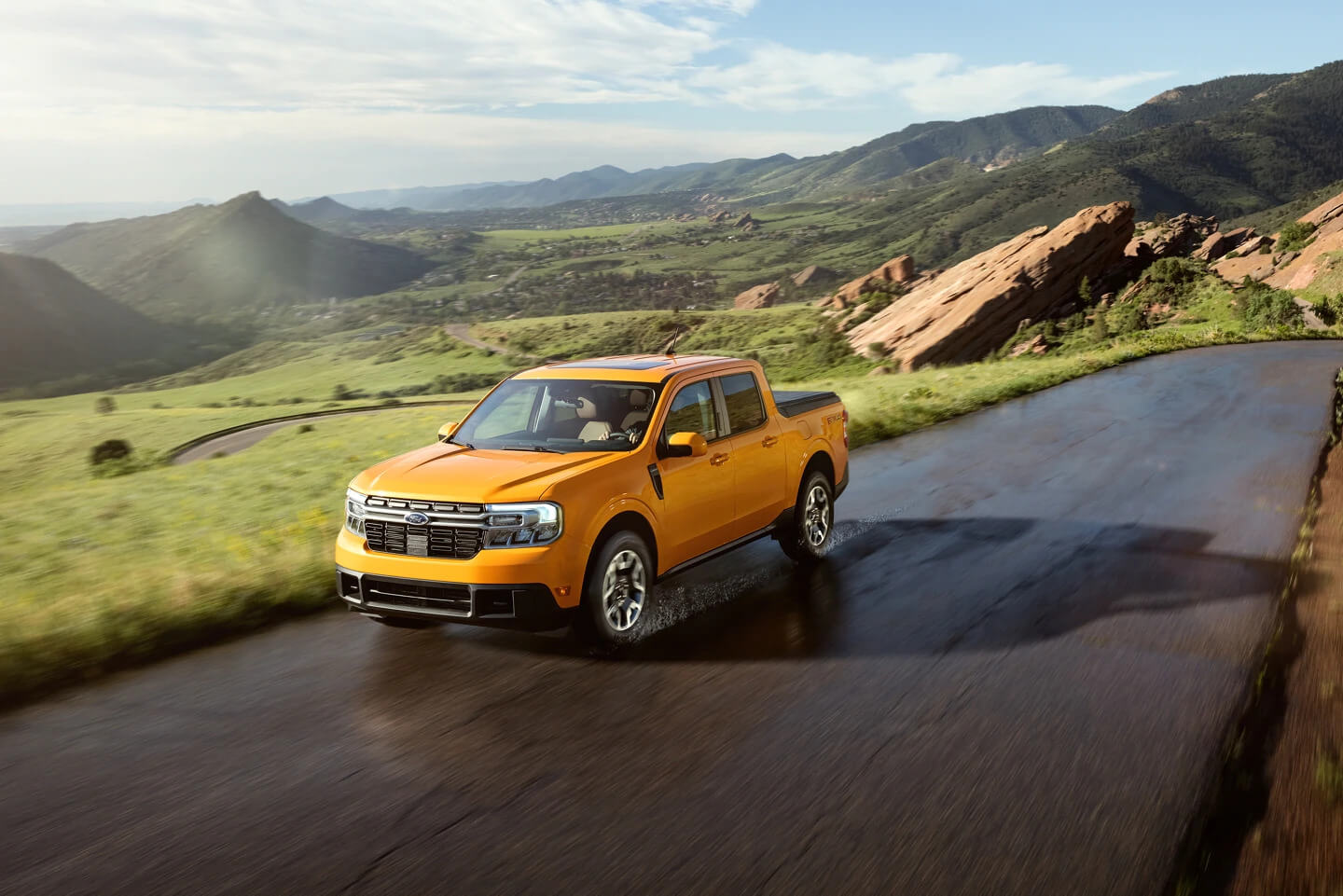 Starting at just under $20,000, this is one of the most affordable pickups.
Although it is significantly longer than a midsize car like the Camry or Accord, it still seats five people and includes a 4.5-foot bed.
Prices and Trims
As noted above, the base model 2.5 liter hybrid front wheel drive layout starts just under $20,000, while a fully optioned out top end Lariat with the 2.0 liter ecoboost and AWD with all packages would cost the folks more than $30,000.
Trims

XL

XLT

Lariat

Drive

FWD

FWD

AWD

FWD

FWD

AWD

FWD

FWD

AWD

Net Price (USD)

21,490

22,575

24,795

23,855

24,940

27,160

27,355

28,440

30,660

Engine

2.5 liter Hybrid

2.0 liter ecoboost

2.0 liter ecoboost

2.5 liter Hybrid

2.0 liter ecoboost

2.0 liter ecoboost

2.5 liter Hybrid

2.0 liter ecoboost

2.0 liter ecoboost

MPG (city/hwy/comb)

42/33/37

23/30/26

22/29/25

42/33/37

23/30/26

22/29/25

42/33/37

23/30/26

22/29/25

Power (hp)

191

250

250

191

250

250

191

250

250

Torque (lb-ft)

155

277

277

155

277

277

155

277

277

0-60 mph (s)

7.6

-

6.4

7.6

-

6.4

7.6

-

6.4

Payload (lbs)

1500

1500

1500

1500

1500

1500

1500

1500

1500

Towing Capacity (lbs)

2000

2000

2000(4000 in FX4 Package)

2000

2000

2000(4000 in FX4 Package)

2000

2000

2000(4000 in FX4 Package)

Availability
The Ford Maverick is now available in all states, and its popularity is skyrocketing. Many dealers and the manufacturer are providing financial and cash back incentives for the ford pickup truck. You can check for incentives at the bottom of this article.
Performance and Handling
Independent front suspension provides a comfortable and well-handling ride.
It has a 40-foot turning radius.
It has effective braking with minimal fade thanks to its four-wheel disc brakes.
The Maverick handles like a car since it is a unibody truck.
You can confidently hurl it around corners because of its low center of gravity.
Despite having a powerful ecoboost engine, it lacks highway performance. It is, however, a pickup truck, and it handles considerably better than most other pickup trucks on the road.
Towing Capacity
The payload capacity of the Maverick base trim with the hybrid engine is only 1500 pounds and it has a towing capacity of 2000 pounds. Yes, that's the maximum weight it can carry! However, if you upgrade to a larger engine with the $745 4K package, it can tow up to 4000 pounds, which is impressive for a four-cylinder unibody truck.
Hyundai Santa Cruz, on the other hand, can tow up to 5000 pounds, making it more capable but also more expensive. Maverick also has an optional $800 FX4 off road kit.
Interior
| | | | |
| --- | --- | --- | --- |
| Seating | Headroom, Front/Rear | Legroom, Front/Rear | Cargo volume |
| 5 | 40.3 / 39.6 Inches | 42.8 / 35.9 (Hybrid) and 36.9 Inches (2.0 liter) | 4.5 foot bed |
Cabin Space
The cabin is spacious and bright. Although the materials aren't of the highest quality, Ford has designed it to look unique rather than boring.
They chose brighter materials in place of dark plastics. Recycling materials have been employed extensively to offer the Ford a sense of environmental friendliness.
The optional sunroof brightens the interior, although also reduces headroom. Talking about the room, the front seats are spacious, but taller people in the back may feel crowded.
Each door has a unique bottle holder and doorbins.
Aside from the storage under the armrest, the center console itself has 5 different storage compartments for various applications. There is also extra storage behind and to the right of the center screen and under the back seats.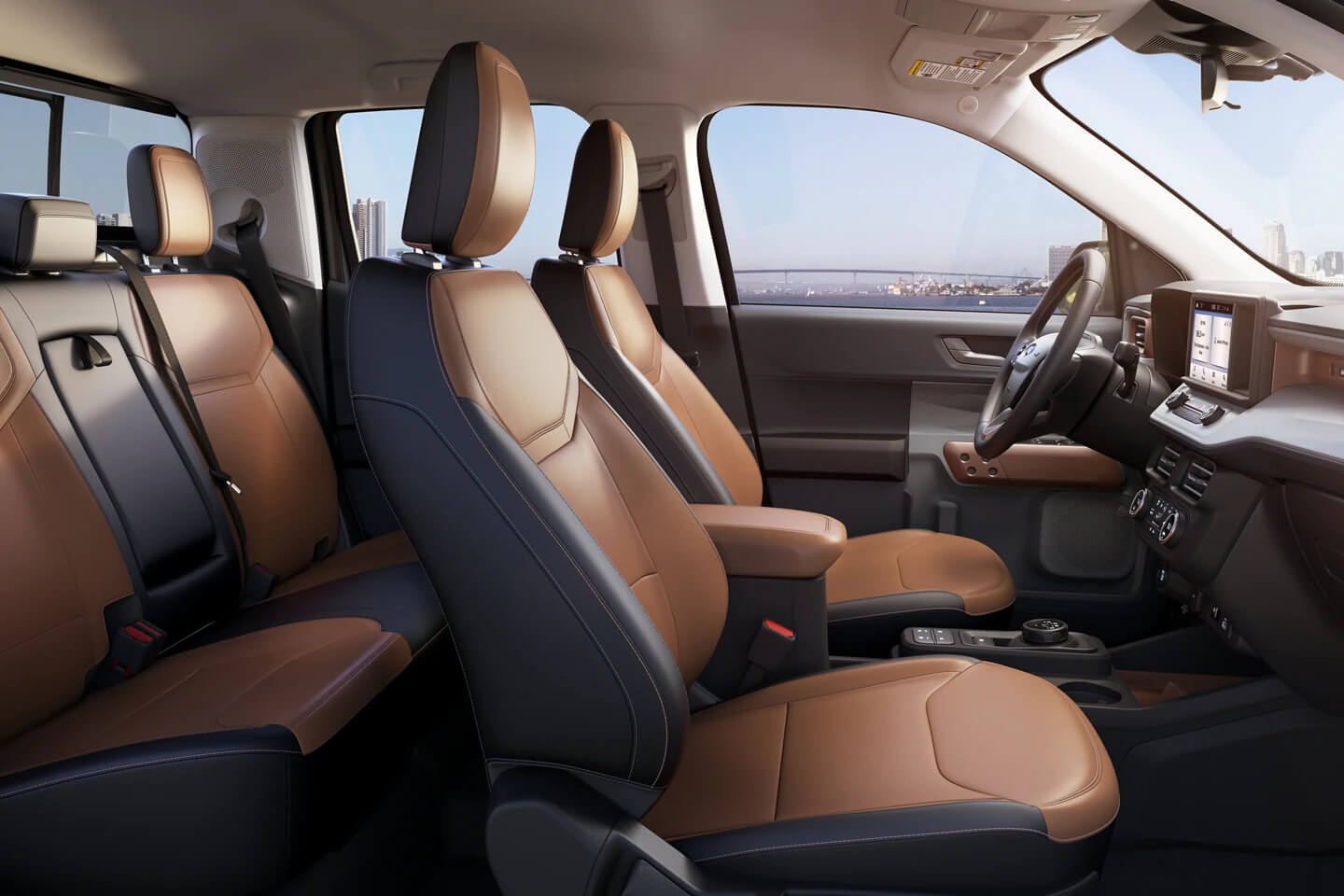 Infotainment and Connectivity
An 8-inch LCD touchscreen is standard across the board. The user interface is straightforward, and the display is bright and clear. Because Ford elected to save money by making Android Auto and Apple CarPlay standard, it lacks navigation and other functions.
The XL and XLT come standard with a 4.2-inch driver display, but XLT owners can upgrade to a larger 6.5-inch digital driver display, which is standard on the Lariat.
Also Read -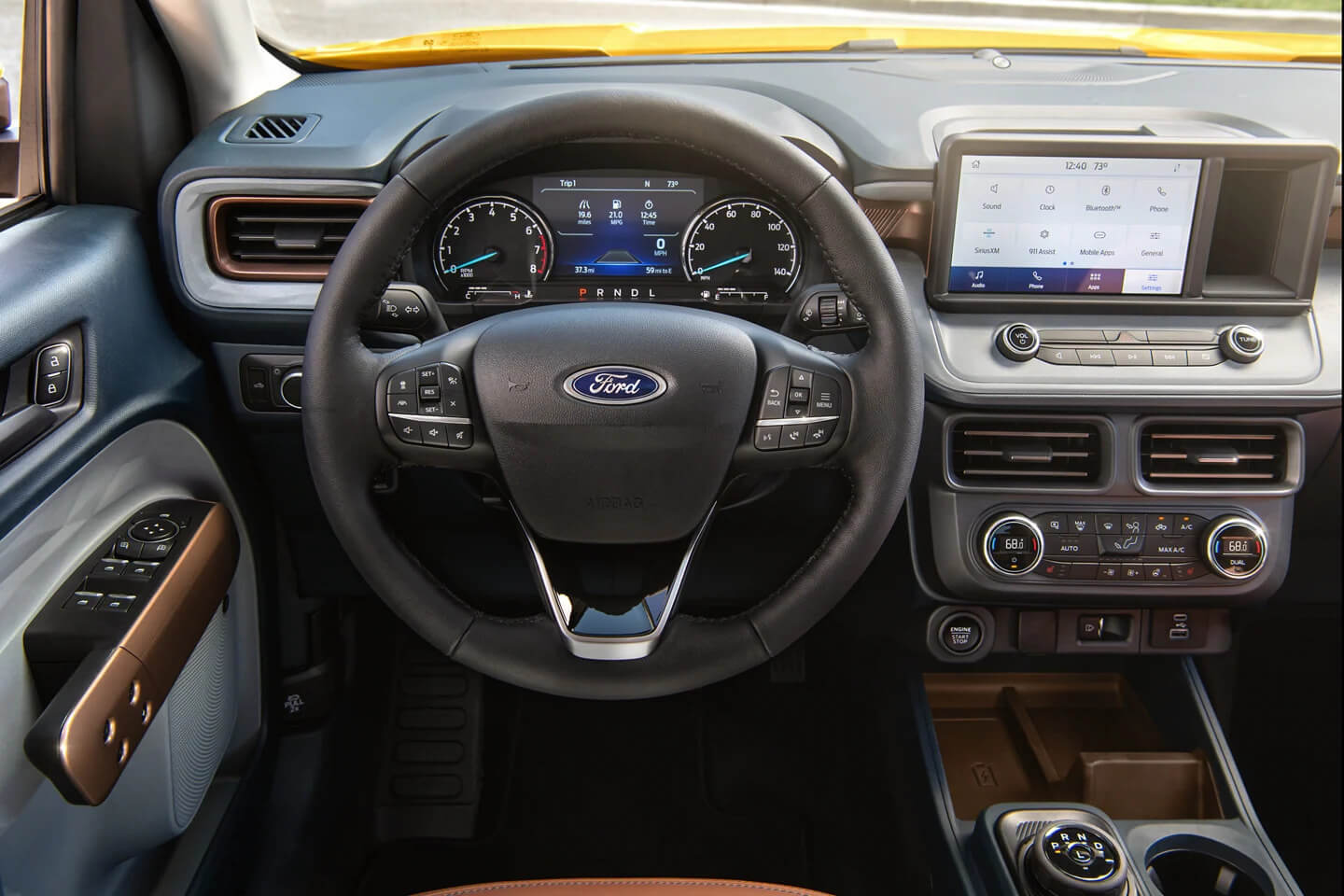 LIKES:
Ford has a barcode on the right bed wall, scanning the code sends you to Ford's website, where they share bed customization ideas and a range of DIY custom jobs.
Two USB ports are located on the front of the device (type A and type B).
Two 12V sockets, one in front and one behind the center console Conventional socket are also available.
DISLIKES:
Optional B&O system has to be bought with the luxury package and Co-pilot package for a total cost of $4,300.
Technology and Features
Keyless entry, a wifi hotspot, LED lighting, and Ford's FLEX BED architecture come standard on the Maverick. The Maverick's strength, on the other hand, comes from its ability to be customized.
A manual 6-way adjustable driver and 4-way adjustable passenger seat are standard on the base model, but an 8-way powered driver and 6-way powered passenger seat are optional on the XLT and standard on the Lariat.
LIKES
Lots of customization options are available, including an in-cabin 400W inverter, a bed extender, paint decals, a bed liner, and a bed fiberglass top.
Ford's Co-Pilot 360 package adds Lane Keep assist, Cross Traffic Alert and Blind Spot Monitoring for just $650.
DISLIKES
Manual single-zone air conditioning
Lowest trim does not get the option to choose the 2.0 liter ecoboost like the other trims
Quick Quirks: The Maverick uses a rotary gear selector instead of a regular shifter.In the back of the center console, right below the 12V socket, the Maverick offers a slot where you may build your own custom accessories or attach Ford's accessories.
Exterior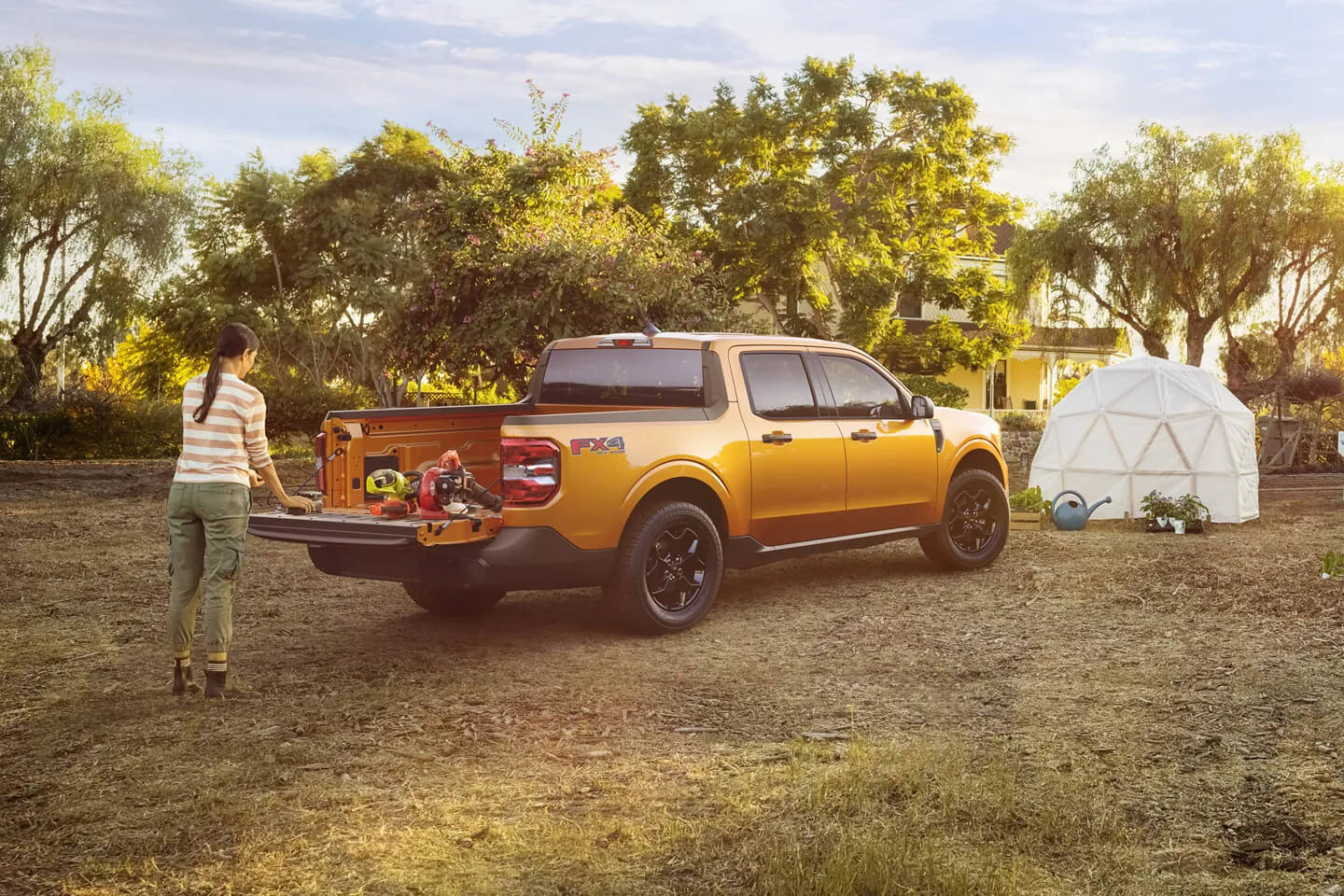 The exterior design of Maverick prioritizes function above form. To appear bold and practical, it is styled after a traditional truck. The boxy exteriors give it a rough look, while modern accents like LED lights and massive alloys give it a sleek look.
Its tailgate includes a customizable tether, which allows you to open the tailgate at an angle to load objects longer than 4.5 feet while still preventing the goods from slipping out.
Quick Quirks: There is additional storage in the right bed wall, with a hidden compartment beneath the storage bin.
Warranty and Safety
The vehicle is covered by a 3year/30,000-mile warranty.
The powertrain is warrantied for 5 years/60,000 miles (battery included).
The warranty on Safety Restraint Systems is 5 years/60,000 miles.
It includes a 5-year/60,000-mile Roadside Assistance Program.
It has a 5-year perforation warranty.
It has seven airbags.
Driver assistance technologies such as pre-collision assist, lane departure warning, lane assist, cross traffic alert, blind spot monitoring, and others are available. For more information on Ford CoPilot 360, click here.
Government Incentives
Incentives for EV are provided by federal and state governments. Contact your local Department of Transportation to learn more about these incentives before purchasing an EV, hybrid, or other Alternatively Fueled Vehicle (AFV). These include:
tax rebates
financing the purchase and installation of chargers
waived off sales or use tax
priority lanes
discounted toll tax
Ford Maverick Offers in USA
New England:
2022 Ford Maverick Incentives, Specials & Offers in
Richardson, Texas:
2022 Ford Maverick Incentives, Specials & Offers in Richardson TX
Denver Colorado:
2022 Ford Maverick Incentives, Specials & Offers in Denver CO
Charlotte, North Carolina:
2022 Ford Maverick Incentives, Specials & Offers in Charlotte NC
Olympia, Washington :
2022 Ford Maverick Incentives, Specials & Offers in Olympia WA
Tampa, Florida:
2022 Ford Maverick Incentives, Specials & Offers in Tampa FL
Looking for an affordable used Ford pickup truck?
Check out our certified Ford pickup trucks and other used cars here.