PROS

CONS

VERDICT

It looks fantastic and performs admirably.
Cabin is spacious and well-equipped.
It's practical and can be used as a daily driver.

Some folks may find the ride difficult.
The usage of boots is restricted by the crossbar.
There are no 60-40 split rear seats or charging ports in the back.

It's a practical and quick sports sedan with plenty of space and technology.
It's inexpensive, stylish, and unique - a real head turner.
Hyundai's warranty coverage makes it an excellent long-term vehicle for owners.

Starting price: $ 32,150 MSRP
The Elantra N, Hyundai's new addition to the "N" series, has finally been released. The N could refer to either Namyang, Hyundai's R&D center in South Korea, where the N cars are built, or the Nurburgring, where they are extensively tested for sportiness as soon as the first production models are produced.
What about its availability?
The Elantra N was unveiled in 2021 and will be available to purchase from August of 2022. Because it is intended for a niche market, we recommend checking your local dealer's website to see whether they have it in stock at the time of your purchase.
What's Interesting about the Hyundai Elantra N?
Launch Control
TCR sound mode available in exhaust sound customizing menu
Crossbar in the boot to increase structural rigidity
N Grin Shift (NGS) Function adds 10 hp for 20 seconds
What about its performance and handling?
| | |
| --- | --- |
| Specs | Elantra N |
| Engine | 2.0 liter Turbocharged Inline 4 |
| Price (USD) | 32,150 |
| Range (CITY/HWY) (miles) | 270/380 |
| Power (hp) | 276 @ 5500 RPM(+10 hp with NGS mode in Automatic) |
| Torque (lbs-ft) | 289 @ 2100 RPM |
| Drive | FWD |
| 0-60 mph (s) | 5.3 |
| MPG (CITY/HWY/COMB) | 22/31/25 |
The Elantra comes standard with 19-inch diamond cut alloy wheels wrapped in Michelin Pilot Sport 4S tires - a serious tire for a car like this, showcasing Hyundai's commercial acumen.
It includes 360 mm discs which are ventilated to keep the rotors cool and reduce brake fade on the track. Other aerodynamic additions such as the side skirts, bumper canards, the spoiler and diffuser work together with the tires to offer superior traction.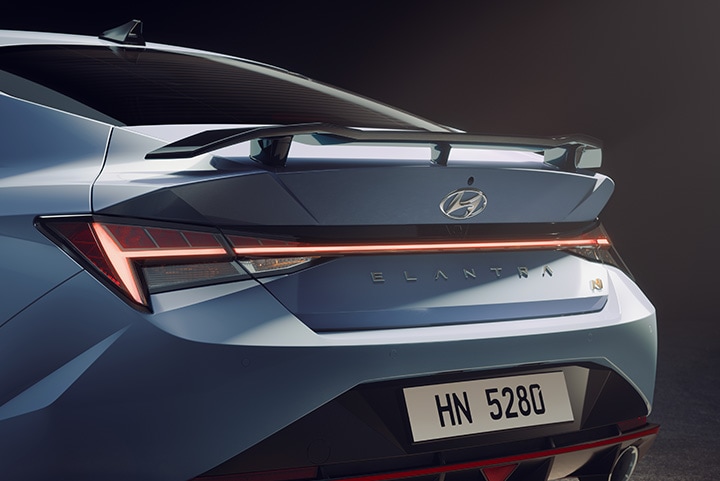 Hyundai also makes use of an IDA, or Integrated Drive Axle. They are able to minimize unsprung mass by 3.81 pounds by combining the bearings, hub, and drive axles into a single component. A lower unsprung mass translates to improved handling and overall performance.
It also boasts an electronic Limited Slip Differential, which reduces understeer and allows you to aggressively target apexes.
Quick Quirk: the Elantra N also has performance intakes and exhausts. The exhaust sound can be adjusted from the center infotainment screen to give you a customisable performance experience.
LIKES
The adjustable suspension is comfy in town yet rigid on the track, giving this car a dual personality.
Variable Valve Exhaust System can make the Elantra N sound like a TCR car.
DISLIKES
The FWD layout means overstressed front wheels and so the front tires might not last very long.
How's the interior?
| | | | |
| --- | --- | --- | --- |
| Seating | Headroom, Front/Rear | Legroom, Front/Rear | Cargo volume |
| 5 | 39.9 / 37.3 Inches | 42.3 / 38 Inches | 14.2 Cubic Feet |
The seats in the front are both comfy and supportive.
The substantial bolstering supports your body through high cornering forces, while the Alcantara ensures your comfort on a regular basis.
The blue stitching that covers all of the surfaces adds to the car's athletic look.
The steering wheel is a three-spoke device rather than a four-spoke unit.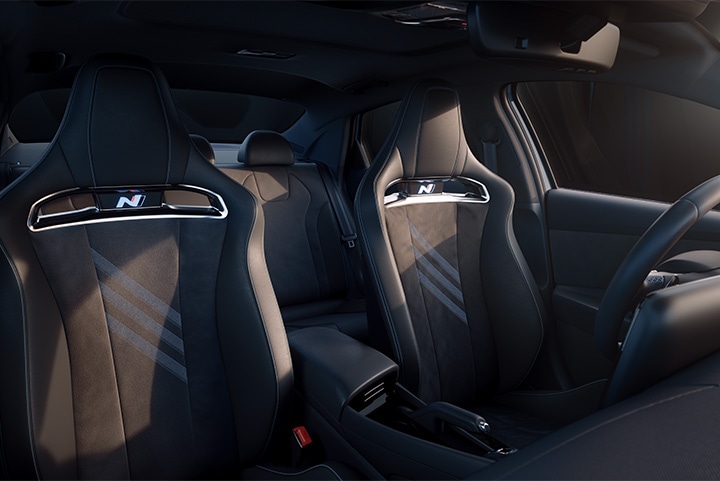 LIKES:
Space in backrest for racing harness
N badge on the front seats lights up
Crossbar improves rigidity by 29%
DISLIKES:
No rear AC vents
Crossbar is located behind rear seats and hinders the facility of extending trunk space.
Quick Quirks: The Elantra N lacks 60-40 split back seats and a center armrest, standard on all current automobiles, even non-"N" Elantras.
Overall, the interior quality is fair with soft touch plastics on the upper panels, but if you hunt for them, you will find some cheap plastics. It doesn't really matter because it's one of the most affordable cars. We mean a $32,000 car that combines luxury, appearance, features, and sportiness is insane!
Infotainment and connectivity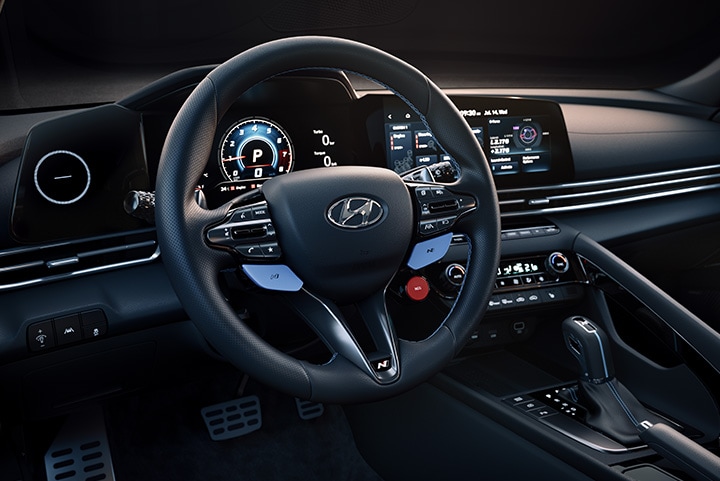 It has two 10.3-inch screens. On the first page of the center screen, you can view information such as brake pressure, throttle pressure, a laptimer, and even a map of the track you want to race. The tracks are preloaded.
Once you swipe left, you unmask a profusion of mechanical configurations such as suspension setting, steering response, e-LSD response, ESC response, throttle response, engine sound customisation and launch control customisation. You can literally select the RPM you want to launch at with this feature.
LIKES:
Physical buttons for Climate Control.
N mode allows a lot of customization.
Different display on driver's display for different drive modes.
DISLIKES:
Wireless Apple CarPlay and Android Auto are absent
No charging ports for rear passengers
During navigation, the driver display does not show a full map, only an arrow and the distance left before a turn.
There is no information on the driver's display concerning the media being used, such as the music playing.
How about the features and technology?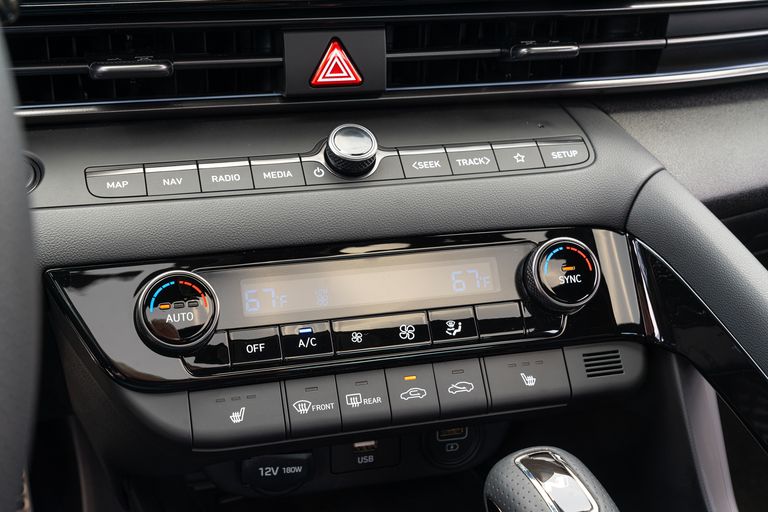 It has steering mounted controls that allow the driver to control the media and activate voice assist.
Quick Quirk: A Traction Control button is placed on the left side of the steering column on the lower end of the dashboard. Pressing this button will not switch off completely and puts it on a less restrictive race traction control mode. Pressing and holding this button will switch it off completely.
Other luxurious features on offer are a standard 6 way powered driver seat and 4 way powered passenger seat, both of which are heated. It also offers interior ambient lighting that can be customized with 64 colors for the occupants to choose from.
LIKES
An option to select a less restrictive traction mode.
Retains all comfort features such as heated/cooled seats from the normal Elantra.
Auto Rev Match available on the manual labeled REV.
DISLIKES:
Some of the features may have a steep learning curve.
Quick Quirks: The Automatic has a N Grin Shift Function (red NGS button on the steering) which adds 10 hp for 20 seconds and launches the car to 60 in 5.3 seconds.
How does it look?
Hyundai has been making the rounds with their new design language. They don't appear to be as plain as they did more than a decade ago. The N variants stand out even more.
The foundation styling, such as the fluidic design, aggressive front and rear end styling, and sharp headlights and taillights, stays unchanged from the stock Elantra.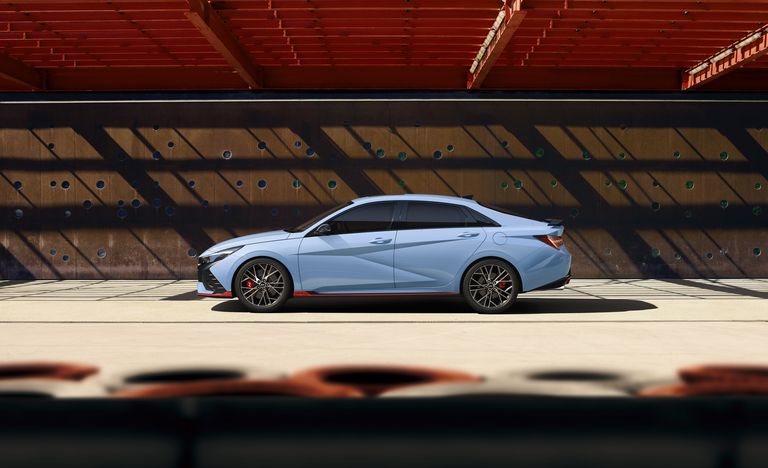 Hyundai has included what some may call- bolt-on cosmetics for the N models. They added side skirts, a rear spoiler and diffuser, blacked out the chrome trims with glossy paint, large 19-inch aggressively styled wheels, and red highlights over the lower half of the car.
Warranty and Safety
5 years/ 60,000 miles of limited warranty.
10 years/100,000 miles Powertrain warranty available.
3 years/36,000 miles of complimentary maintenance and warranty.
6 airbags (standard)
ADAS features such as Electronic Stability Control,Traction Control, Hill Start Assist. Rear Cross Traffic Alert, Lane Keeping Assist, Safe Exit Warning and High Beam Assist, Pedestrian Detection, and Driver Attention Alert.
The normal Elantra scored 5 stars in the NHTSA crash tests. Hence the N should score the same.
Interested in checking out the vehicle?
Checkout our website carweek.com to see Elantra N's availability in your area once it launches in August 2022.
Offers:
New England:
2022 Hyundai Elantra N Incentives, Specials & Offers in
Atlanta, GA
2022 Hyundai Elantra Incentives, Specials & Offers in Atlanta GA
Los Angeles, CA:
2022 Hyundai Elantra N Incentives, Specials & Offers in Van Nuys CA
Montgomery, Alabama:
2022 Hyundai Elantra N Incentives, Specials & Offers in Montgomery AL
Bakersfield, CA:
2022 Hyundai Elantra N Incentives, Specials & Offers in Bakersfield CA
Hicksville, NY
2022 Hyundai ELANTRA Incentives, Specials & Offers in Hicksville NY