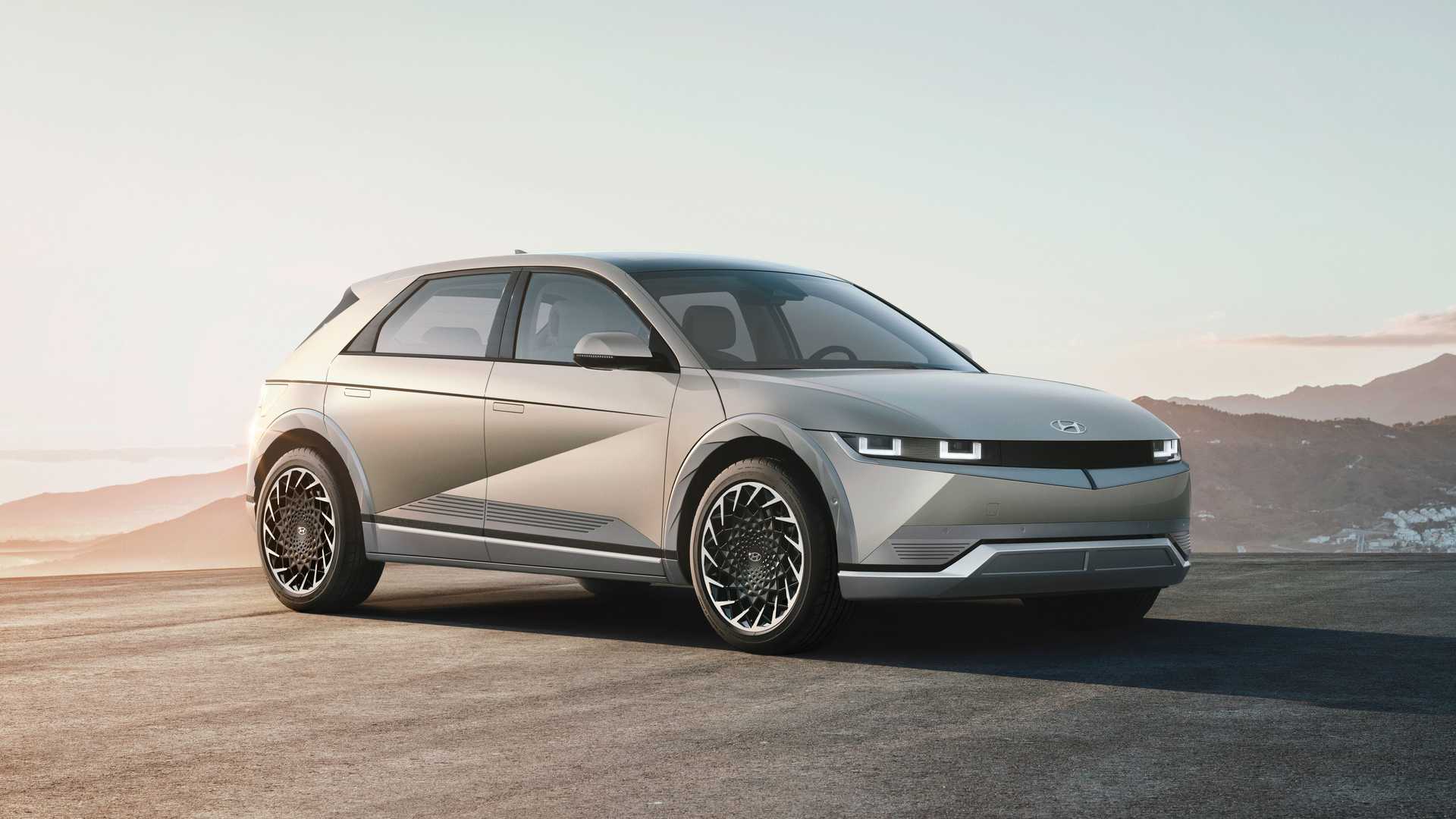 | | | |
| --- | --- | --- |
| PROS | CONS | VERDICT |
| A low starting price with spacious interiors; a 300-mile range with the Long Range RWD version; comfort at low speeds and good handling at high speeds | Its compromised rear visibility can be aggravating; the frunk and rear storage compartments are a little smaller; and driving at high, constant speeds reduces your mileage range per charge. | It's one of the best electric cars to own and drive. It is practical, affordable, and packed with tech and safety features. Furthermore, it appears to have a timeless design and looks really good. Drivers will feel confident owning this vehicle for years to come thanks to Hyundai's incredible warranty. |
Does it have any competitors or rivals?
What makes the Ioniq 5 unique?
The IONIQ 5 is a first-of-its-kind. Its release marks the official start of Hyundai's new EV series.

It has a fast charging capacity of more than 250 kW/800 volts and can charge from 10% to 80% in just 18 minutes!

It will accelerate from 0 to 60 mph in 5.2 seconds, which is much faster than many modern cars.

It has a cool feature that allows you to use the car's battery pack to power electronics and other gear.

Its warranty includes an unrivaled maintenance package.
What about the prices and trim levels?
The Hyundai Ioniq 5 price starts at USD 40,295. It will be available in four trim levels: SE standard Range, SE, SEL, and Limited. Except for the SE standard range, all models will have the option of RWD or AWD drivetrains.
| | | | | | | | |
| --- | --- | --- | --- | --- | --- | --- | --- |
| Trims | SE Std Range | SE | SE | SEL | SEL | Limited | Limited |
| Drive | RWD | RWD | AWD | RWD | AWD | RWD | AWD |
| Price (USD) | 40,295 | 44,895 | 47,145 | 48,395 | 50,645 | 51,845 | 55,745 |
| Battery (kWh) | 58 | 77.4 | 77.4 | 77.4 | 77.4 | 77.4 | 77.4 |
| Range (miles) | 220 | 300 | 270 | 300 | 270 | 300 | 270 |
| Power (hp) | 168 | 225 | 320 | 225 | 320 | 225 | 320 |
| Torque (lb-ft) | 258 | 258 | 446 | 258 | 446 | 258 | 446 |
| 0-60 mph (s) | - | - | 5.2 | - | 5.2 | - | 5.2 |
| Fast Charging Time 10-80% (mins) @ 350kW/800V | 18 | 18 | 18 | 18 | 18 | 18 | 18 |
| Range added to the battery in 5 mins of fast charging time (miles) | 55 | 69 | 69 | 69 | 69 | 69 | 69 |
Every Ioniq 5 includes Hyundai's standard ADAS features like Highway Drive Assist I and Smart Cruise Control, as well as a comprehensive set of safety features like forward collision mitigation, blind-spot monitoring, adaptive cruise control, and lane keeping system.
The Limited trim has the most options, including a heads-up display (HUD), Highway Drive Assist II, a roving centre console, and park assist with keyfob control.
Which one do we recommend?
We think the SEL AWD with the 320-hp dual-motor setup is the one to get. It comes equipped with many more features for not much more money than the SE. Though the dual motor gets expensive, it's worth it for the powerful acceleration.
What about its availability?
Hyundai's new compact crossover, the Ioniq 5, has been on sale since December 2021.

For now, it is only available in the long-range battery trim (77.4 kWh). The more affordable, smaller battery trim will become available in Spring 2022 at a Hyundai dealership near you.

What about its performance and handling?
It has a suspension setup that prioritizes comfort over handling.

Driving around town is effortless and convenient. The ride is smooth at low speeds and stable at high speeds, but there is some body roll when cornering.

Its 4-wheel disc brakes provide effective braking with minimal fade.

Even though it weighs a hefty 4,300 lbs, it doesn't nosedive much under heavy braking conditions.
We could say the 5 has multiple potencies as a daily driver. The steering gives great feedback thanks to the system's mechanical nature and makes the drive engaging. The power delivery is instant and the CUV will provide more power and performance than folks would expect from a conventional IC engine CUV.
The Ioniq 5 rides and handles well overall. Drivers looking for agility, on the other hand, may be dissatisfied with the grip levels and softness of the suspension.
How's the interior?
| | | | |
| --- | --- | --- | --- |
| Seating | Headroom, Front/Rear | Legroom, Front/Rear | Cargo volume |
| 5 | 39.1 / 37.5 Inches | 41.7 / 39.4 Inches | 27.2 / 59.3 Cubic Feet |
Cabin Space

Now that's the advantage of having an all electric packaging; it provides a completely flat floor for maximum passenger and cargo space. Its front seats are fully reclinable with optional footrests for comfortable long drives. Even tall people will find the backseat to be comfortable. To top it all off, the standard panoramic sunroof adds a light and airy feel to the interior.
The cabin is built with environmentally friendly and long-lasting materials. To the left of the twin touch screens is a magnetized board where you can stick refrigerator magnets or notes.
Infotainment and connectivity
The Hyundai Ioniq 5 boasts two 12.3-inch screens—one driver display and one central screen for Android Auto, Apple CarPlay, voice assist, and an optional Bose Premium Sound System. It has a USB charging port as well as a standard charging socket in the backseat. In the front, there are charging ports as well as a wireless charging pad.

LIKES:
Physical buttons control volume, tune the radio, and serve as a shortcut for connected car technology.
DISLIKES:
Wireless Apple CarPlay and Android Auto are absent
How about the technology and features?

The Ioniq 5 is check-full of features and technologies. The cabin is equipped with electronics and a modern user interface, and no technology in this vehicle appears to be outdated.
LIKES
The EV mode, which is accessible from the center console, displays the range as well as methods for extending it.
EV mode maps show nearby charging stations.
DISLIKES
There are no hard buttons for the seat heater, ventilation, or heated steering wheel, so you'll have to make a few swipes on the screen.
Quick Quirks:
The gear selector is attached to the steering column. To engage the parking brake, twist it up to select Drive, down to select Reverse, and press the P button on the side. It's a great space saver as well as a unique feature.
Some additional features:
Other features include a 360-degree camera, Blind-Spot Assist, Auto Park, 800 V architecture (allows fast charging), V2L (vehicle to load) facility that allows the car to power other accessories (adapter included with the car), and the ability to move the car forward and backward using the keyfob.

To avoid overuse while powering appliances, the V2L system allows drivers to select the percentage of the car battery at which the V2L should be turned off.

Remote start allows you to preheat or pre-cool the vehicle. The Ioniq 5 also has an augmented reality Heads-Up Display, which displays the cruise control speed, directions, and distance until the next turn.
How's the exterior?
The Ioniq 5 has an eye-catching retro-themed exterior. The EV looks classy thanks to its pixelated patterns and quadrilateral elements. It has retractable door handles for a more streamlined appearance, as well as keyless entry buttons on the handles.
The sloping roof, on the other hand, reduces vertical space, and the lack of a rear window wiper collects dust and snow on its windows. Also, make sure to lock your Ioniq to avoid a snow jam in the crevice of the door handle.
What warranty and safety does it offer?
We have to say it: Hyundai outperforms its competitors in terms of value. As of this writing, there is no better warranty that includes a maintenance package in the United States than this one.
The vehicle is backed by a 5-year/60,000-mile warranty.

The engine is backed by a 10-year/100,000-mile warranty (battery included).

For three years or 36,000 miles, maintenance is free.

Warranty against perforation for 7 years

5 out of 5 stars for crash safety

In the event of an accident, the E-call feature automatically contacts authorities.

It has 7 airbags, one of which prevents the occupants' heads from colliding during side impacts.
Are there any incentives and rebates for the EV?
Federal and state governments offer incentives to encourage the purchase of electric cars. You should definitely think about these incentives before purchasing an EV, hybrid, or other Alternatively Fueled Vehicle (AFV).
Government incentives include:
tax rebates

financing the purchase and installation of chargers

Waivers of sales or use taxes

priority lanes

discounts on toll taxes
Some state incentives include:
Ohio:
https://www.hyundaiofohio.com/global-incentives-search/2022-Hyundai-IONIQ-5-SUV-Offers-US2022HYA4dbb4a3a63e2fd3c5371f8b.htm
Bedford:
https://www.hyundaiofbedford.com/global-incentives-search/2022-Hyundai-IONIQ-5-SUV-Offers-US2022HYA4dbb4a3a63e2fd3c5371f8b.htm
Manufacturer Offer:
https://www.herbchambers.com/global-incentives-search/2022-Hyundai-IONIQ-5-SUV-Offers-US2022HYA4dbb4a3a63e2fd3c5371f8b.htm
You can click here to check incentives like these provided by federal and state governments.