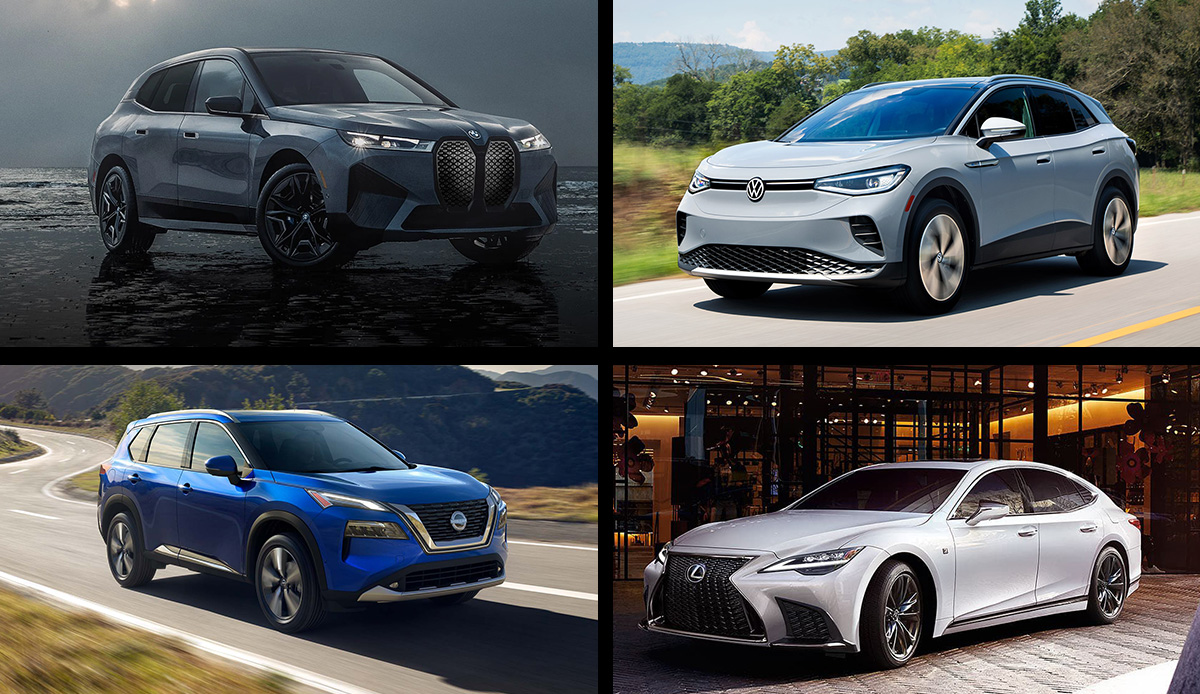 The auto industry is progressively moving toward self-driving cars since they make commutes safer and less stressful.
So far, modern engineered vehicles have achieved level 2 autonomy (of the six recognized levels of autonomous driving), which requires active human involvement in driving and monitoring the vehicle and its surroundings. Unfortunately, self-driving cars with Level 3 to Level 5 systems are still years away.
Having said that, here are the top cars that offer the best of ADAS and autonomous driving for you to commute safely and comfortably.



Nissan's semi-autonomous ProPilot Assist with Navi-link assists with highway braking, acceleration, and steering. It combines adaptive cruise control with lane-centering assist to keep equipped vehicles in their lane while maintaining a set distance and speed behind a leading vehicle.

ProPilot Assist works with the vehicle's navigation system to estimate the route ahead. With Speed Adjust by Route, the system can reduce the vehicle's speed to better prepare you for tight corners.

The 2022 Nissan Rogue also comes with the Standard Safety Shield 360 suite which features Automatic Emergency Braking with Pedestrian Detection, Rear Automatic Braking, Blind Spot Warning, Rear Cross-Traffic Alert, Lane Departure Warning, and High Beam Assists.
BMW iX


The BMW iX is the automaker's first mainstream vehicle designed from the ground up to be an electric model.
The iX has Level 2 semi-autonomous driving features that rely on 12 ultrasonic sensors, five cameras, and five radar sensors. BMW also includes a Driving Assistant Professional suite as well as systems such as Forward Collision Warning, Blind Spot Warning, Steering and Lane Guidance Assist, Emergency Steer Assist, Lane Keeping Assist, and Parking Assist in the iX.
Volkswagen ID.4


The VW ID.4 is equipped with IQDrive, which can help to avoid or reduce the severity of an accident. The ID.4 comes standard with the lane keeping technology Lane Assist, which uses steering intervention to prevent the car from leaving its lane unintentionally. Front Assist continuously monitors the environment in front of the car and responds with warnings and brake interventions to alert you of impending collisions with other road users. The oncoming car braking while turning function assists you when turning across the oncoming lane, whilst swerving support gives counter steering assistance to assist the driver in avoiding obstacles.
The acoustic Parking sensors, as well as the speed limitation featured in the ID.4 to a maximum speed of 160km/h, help to avoid parking crashes or reduce the level of damage.
IQ Drive also includes Travel Assist and Emergency Assist features.
Also Read -
Tire Types Explained: Guide For Every Road Condition


Ford BlueCruise provides true hands-free driving on prequalified sections of divided highways known as Hands-Free Blue Zones, which cover more than 130,000 miles of North American roads.
Blue lights on the digital instrument cluster shows that the vehicle is in a hands-free zone.
Stop-and-Go, Lane Centering, and Speed Sign Recognition are among the available Intelligent Adaptive Cruise Control functions in Ford BlueCruise. It allows you to drive hands-free while being watched by a driver-facing camera to ensure you keep your eyes on the road, with potential future enhancements.
BlueCruise comes standard in Ford Mustang Mach E as well.
Lexus LS 500h


2022 LS 500h, dubbed Teammate, consists of front-facing LiDAR, short-range radar addressing the front and blind spots, and a front-facing long-range radar.
A forward camera, 360-degree parking cameras, ultrasonic sensors, a front-facing telescope, and an infrared driver-monitoring camera above the steering wheel are also part of the Teammate architecture. To be sure, Lexus' Teammate is one of the most tuned systems on the market, now operating as an SAE Level 2 system with Advanced Drive and Advanced Parking.
Remember that even the most recent ADAS vehicles, which let you take your hands off the steering wheel in some conditions, are only categorised as Level 2 automation by SAE International, but having ADAS in cars today is necessary for a safer drive.
Looking for the perfect car for 2022? Shop for new or used car, here on Carweek.