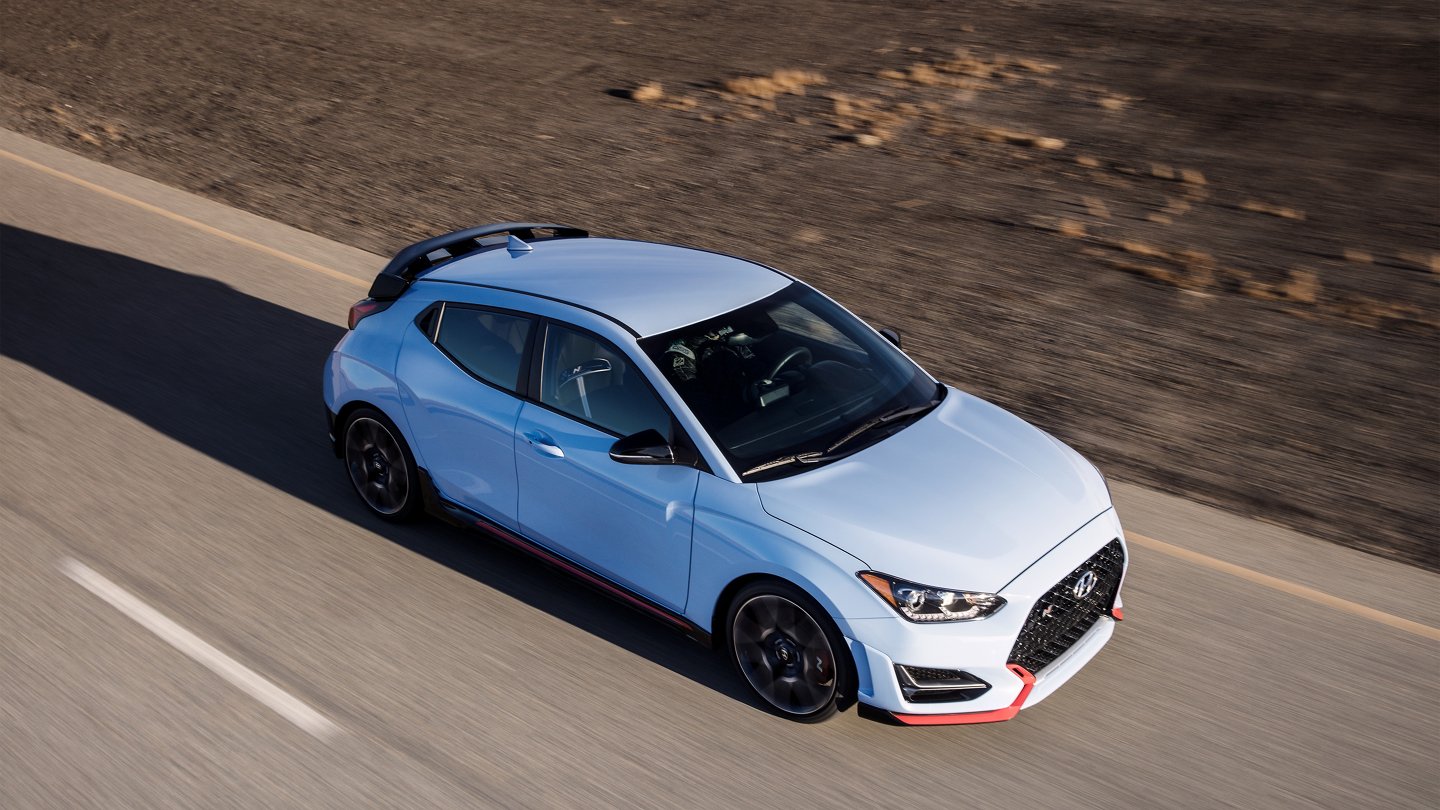 | | | |
| --- | --- | --- |
| PROS | CONS | VERDICT |
| It is one of the most aggressively styled hatchbacks. A lot of performance parts to improve dynamics and straight line speed. Lots of equipment on offer for a practical hot hatch which costs only $32,500 Goes from 0-60 MPH in 5.2 seconds officially. Some sources have reportedly managed a time of 4.8 seconds. | Styling can be too aggressive for everyone's taste. Rear seats are not suitable for most adults. A more practical and slightly powerful Elantra N with near-similar specs and performance is cheaper! | It's a no-brainer for people looking for cars that stand out. The performance exhaust makes it one of the better sounding cars in its segment. Lots of aero and performance elements which boost its looks and performance. It does miss out on a lot of essential features such as heated or ventilated seats or a powered passenger seat as standard or as optional extras. Hyundai's warranty coverage makes it an excellent vehicle to own for a long term. |
Starting price: $ 32,500 MSRP
Hyundai's inaugural N car, the Veloster N, was the first car to step out of Hyundai's Namyang factory in South Korea. The N stands for either Namyang or the Nurburgring, the track where it was extensively tested.
What about its availability?
The Veloster N has been on sale since 2019 in the USA. The 2022 model will be available to purchase at your local Hyundai dealership. Since it is not a mass market car, it is best to check the dealer inventory before heading out to buy one.
What's Interesting about the Hyundai Veloster N?
Launch Control
Performance Exhaust with multiple settings
Manual transmission with Auto Rev Match function
N Grin Shift (NGS) Function (N-DCT) adds 18 lb-ft of torque for 20 seconds
Electronic Limited Slip differential
What about its performance and handling?
| | |
| --- | --- |
| Specs | Veloster N |
| Engine | 2.0-liter Turbocharged Inline 4 |
| Price (USD) | 32,500 |
| Power (hp) | 275 |
| Torque (lbs-ft) | 260 (+ 18 lb-ft with N Grin Shift Function with the N-DCT) |
| Drive | FWD |
| 0-60 mph (s) | 5.2 |
| MPG (CITY/HWY/COMB) | 22/28/25 |


The 2022 Veloster N has a better suspension that is more precisely adjusted to balance comfort and performance. The steering is direct and the car is agile, indicating that you are more connected to the road. The manual transmission is fast and has an Auto Rev Match function that automatically matches revs so you stay in the engine's power zone. The N-DCT, which was added for the 2022 model year, looks promising, shifts rapidly, and the N Grin Shift function adds 18 lb ft of torque for 20 seconds. The Pirelli P Zero performance tires help the car cling to the tarmac , while the electronic limited slip differential prevents understeering and gives ideal grip at all times - whether in a straight line, curves, or on a slippery surface. The chassis is well-balanced and complements the other components to give a dynamic driving experience.
Quick Quirk: From the center screen, you can change the RPM of the launch control. You must, however, set it each time you want to launch. The setting lasts for 5 min or 1 launch - whichever comes first.
LIKES
The suspension setup is more comfortable and suitable for your daily drive

Variable Valve Exhaust System allows you to customize the sound and the amount of pops and crackles you want
DISLIKES
The FWD layout means overstressed front wheels and so the front tires might not last very long.

How's the interior?
| | | | |
| --- | --- | --- | --- |
| Seating | Headroom, Front/Rear | Legroom, Front/Rear | Cargo volume |
| 4 | 38.1 / 35.9 Inches | 42.6 / 34.1 Inches | 19.9 (44.5 with the rear seats down) Cubic Feet |
The 2022 model comes with more supportive and comfortable seats
The N badge on the seats light up
The black interior with blue accents looks sporty
The steering wheel also has blue stitching for the N experience.


LIKES
Front seat space is ample for tall passengers with enough headroom to wear a helmet
N badge on the front seats lights up
Cup holders are present in the rear
2 front USB charging ports
DISLIKES:
No rear AC vents
Rear seat integrated cup holders eat into the space
The black interior looks sporty but makes the cabin dull
Quick Quirks: The Veloster N has three doors - two doors in the front with an additional third door on the passenger side.
Overall, the interior quality is fair with soft touch plastics on the upper panels, but if you hunt for them, you will find some cheap plastics. It doesn't really matter because it's one of the most affordable cars. We mean a $33,000 car that combines luxury, appearance, features, and sportiness is insane! The interior quality and fit and finish is great. However, the design looks dull and is not very welcoming - The VW GTi and even the Elantra N have a much more welcoming design.
Infotainment and connectivity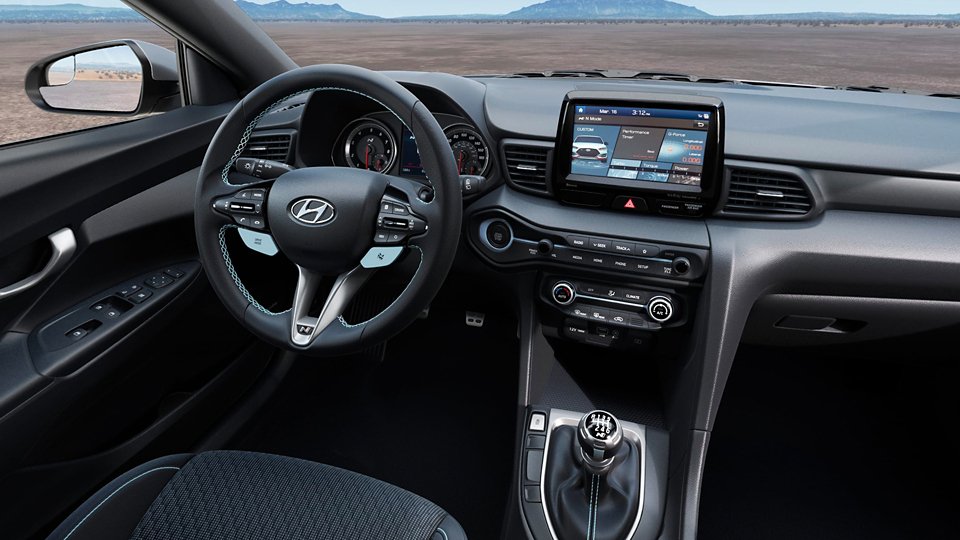 The Veloster comes with an 8-inch center touchscreen as standard paired with an Infinity premium audio sound system with 8 speakers including a subwoofer and an external amp. The driver has a 4.2-inch digital gauge cluster and Bluetooth hands free phone system with voice recognition. The center screen has the N mode menu which opens up a lot of options to customize everything from the engine sound to steering response, suspension stiffness and e-LSD response.
LIKES
Physical buttons for Climate Control
N mode allows a lot of customization
Standard audio system is excellent
Android Auto and Apple CarPlay are standard
DISLIKES:
No charging ports for rear passengers
The driver's display looks outdated
No full digital driver's display available
How about the features and technology?


The Veloster N comes with a lot of comfort oriented features such as Keyless Entry and Go, Auto LED headlamps, Auto Temperature Control and a 6-way adjustable driver seat as standard.
LIKES
The Auto Defogging feature
Rearview camera with Active Guidelines
DISLIKES
No 360 degree camera
No heated and/or ventilated seats
No sunroof
How does it look?
Even though the Veloster N is a hatchback, it looks quite intimidating even with its small build. Its bulging wheel arches, huge 19-inch dual tone alloys, the red accents and aggressive bumpers and bold body lines make it stand out from the rest. The sporty bumpers and sharp headlamps give it an assertive front fascia which makes for an intimidating sight in someone's rear view mirror. The rear fascia also has a strong design language with the upswept tail lamps, a rear diffuser, two huge exhaust tips and a blacked out spoiler. Unlike other Hyundai N models, the Veloster N does not have a normal fuel efficient and practical counterpart which makes it unique and purpose built for performance.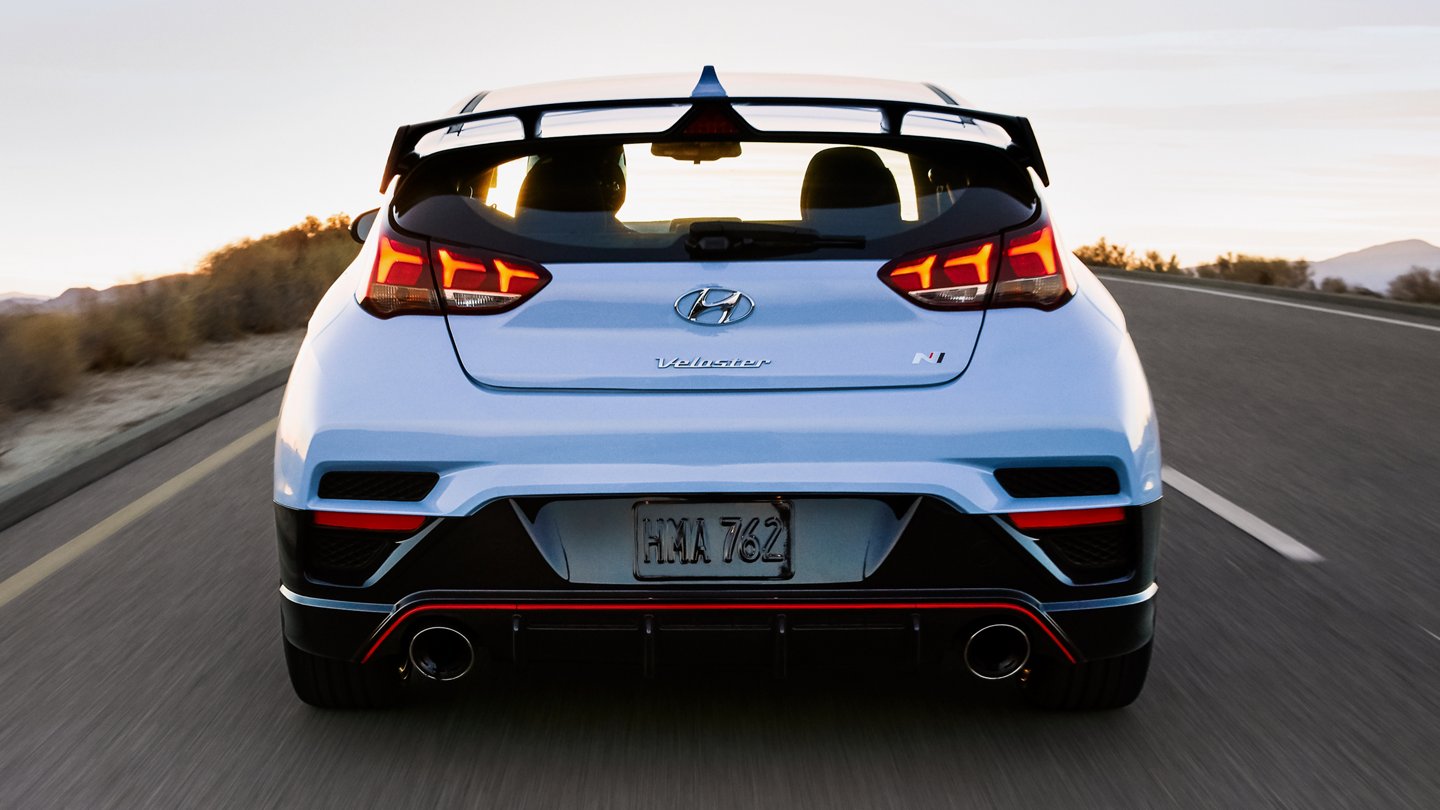 Warranty and Safety
5 years/60,000 miles of limited warranty.
10 years/100,000 miles Powertrain warranty available.
3 years/36,000 miles of complimentary maintenance and warranty.
5 year/unlimited mile roadside assistance
8 airbags (standard)
ADAS features such as Lane Keep, Forward Collision Assist, Blind Spot Collision Warning, High Beam Assist, Driver Attention Warning, Rear Cross Traffic Alert and Lane Follow Assist.
The Veloster N hasn't been crash tested by the NHTSA despite Hyundai selling the current model in the United States since 2019. The 2019 model was branded as a Top Safety Pick of 2019 by the IIHS.
Interested in checking out the vehicle?
Checkout our website carweek.com to see Veloster N's availability in your area. Interested in buying a used car near you? Click here to explore used cars that fit your budget and lifestyle.
Offers:
Van Nuys, California:
2022 Hyundai Veloster N Incentives, Specials & Offers in Van Nuys CA
Riverside, California:
2022 Hyundai Veloster N Incentives, Specials & Offers in Riverside CA
West Islip, New York:
2022 Hyundai Veloster N Incentives, Specials & Offers in West Islip NY
Duluth, Georgia:
2022 New Hyundai Veloster NN Hatchback Atlanta Area
Ann Arbor, Michigan:
2022 Hyundai Veloster N Incentives, Specials & Offers in Ann Arbor MI
New England:
2022 Hyundai Veloster N Incentives, Specials & Offers in
Dallas, Texas:
2022 Hyundai Veloster N Incentives, Specials & Offers in Dallas TX
Montgomery, Alabama:
2022 Hyundai Veloster N Incentives, Specials & Offers in Montgomery AL