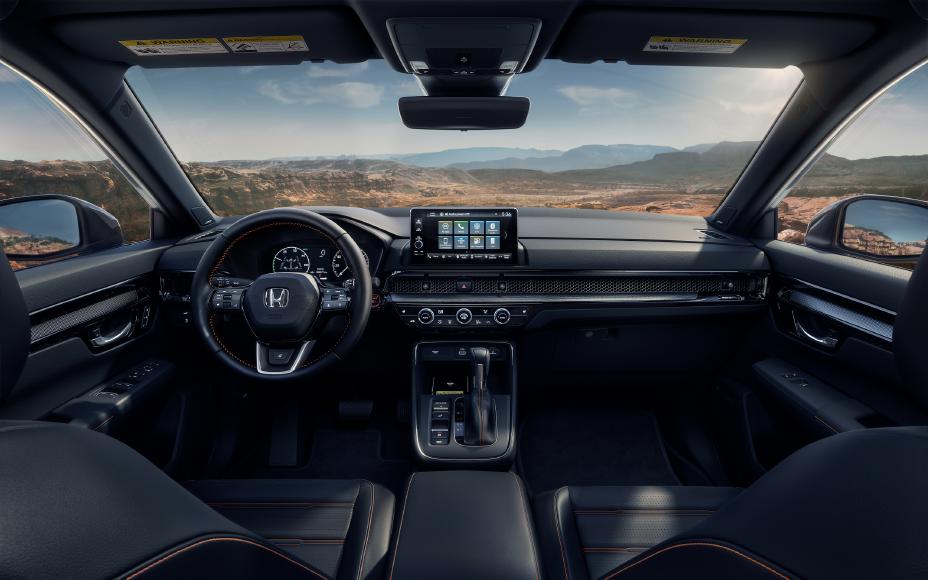 The all-new Honda CR-V is set to go on sale for the 2023 model year, and the automaker is subtly teasing the updated crossover. A new teaser gives us our first look inside after giving us a few glances at the exterior. Honda claims that we will get "additional specifics" on July 12 and that it seems remarkably identical.
Anyone who has seen the new Civic won't be surprised by what the lone shot of the CR-interior V's shows. Although the interiors of the two homes appear to be identical, they are not. The infotainment screen is located above the signature mesh that deftly hides the HVAC vents in the 2023 CR-V, which has the same basic design.
According to Honda, the redesigned cabin is meant to be "sporty and modern." Although we don't like the growing usage of possibly fingerprint-prone black plastic, we are inclined to agree with that assessment. Large amounts of richly colored orange stitching may be seen throughout the contemporary décor. The redesigned dash now has a honeycomb vent running from the steering wheel to the passenger door, which is highly reminiscent of the 2022 Civic Si. Thankfully, the actual climate settings have not changed and remain prominently displayed on the dashboard. Together, the elements in this picture portray the Honda CR-V as a classy and enjoyable place to spend morning commutes.
Based on prior spy photographs, we anticipated the new CR-V to be significantly bigger than the current model. When Honda characterized the interior as having "even greater spaciousness," it almost acts as a confirmation of this notion. Additionally, we anticipate it will have a better hybrid system and generate a little bit more power than the current model's combined 212 horsepower.