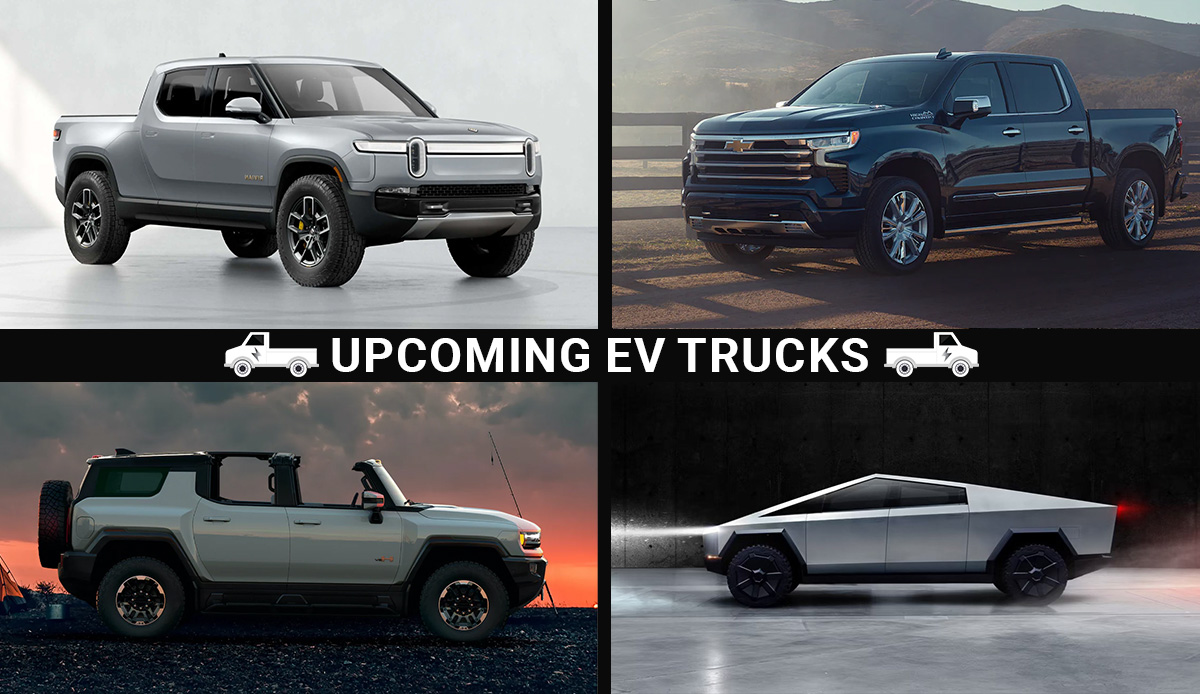 Atlis XT:
Year of Launch: 2022
Starting: $45,000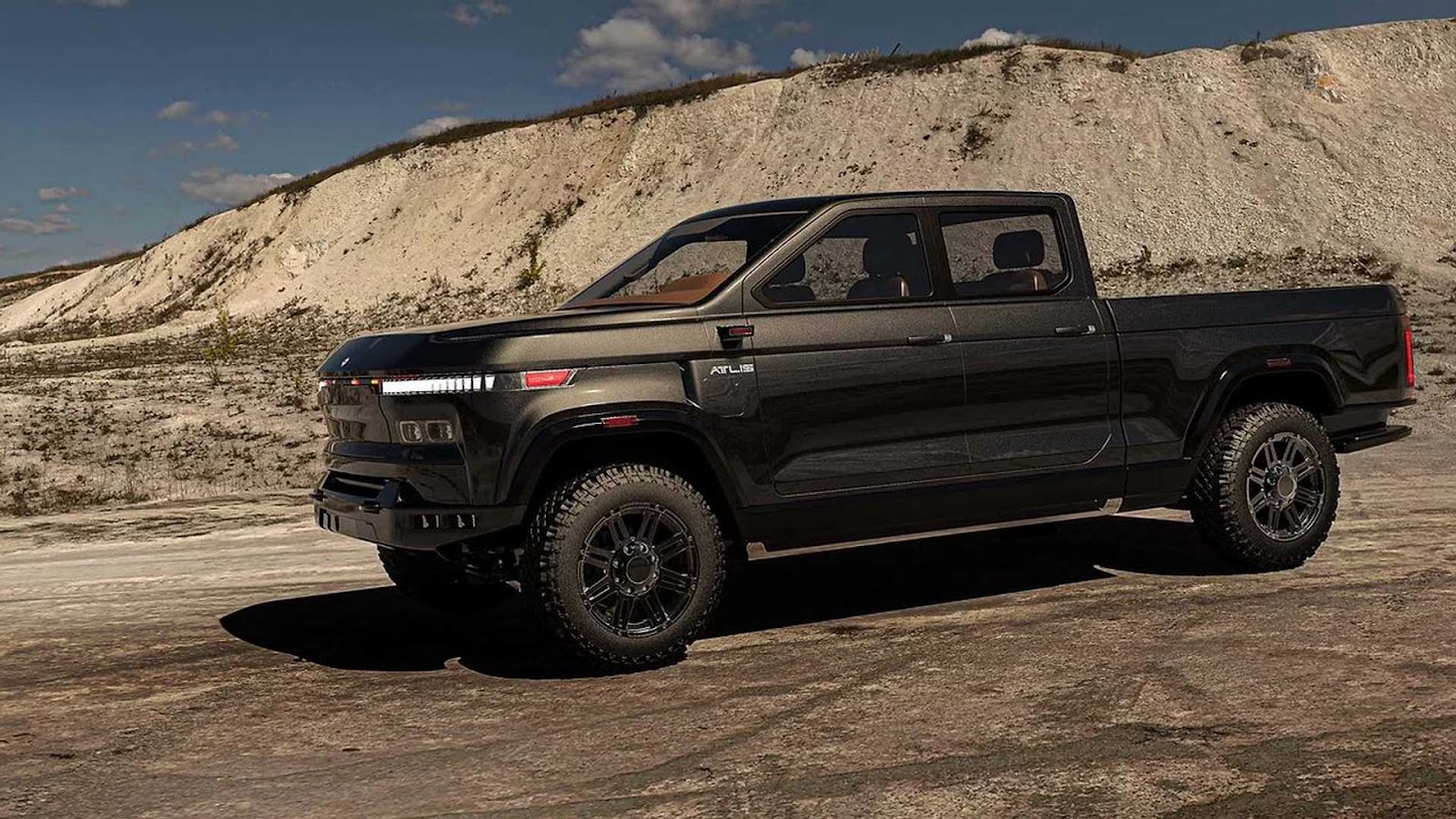 This Arizona-based EV startup is gearing up to begin production on its fresh new EV pickup later this year. Atlis XT is a boxy-looking truck that is purpose-built and comes with a variety of modifications for making it more off-road capable.
It comes with 8-lug wheels, pop-out camera systems, mood lighting, and the ability to lift the vehicle to boost ground clearance.
It will feature two charging ports: a CCS connector and an AAC port, allowing it to be charged practically anywhere.
It will have three battery options, each with a range of 300, 400, and 500 miles.
The XT will be propelled by four separate traction motors and a battery capable of producing 250 kW or more. They also claim a charging time of 15 minutes using their own 1MW fast chargers.
Power - over 600 hp
Peak Torque - 12,000 lb-ft
Towing - 35000 lbs (Gooseneck or 5th wheel)
Payload - 5000 lbs
0-60 mph in 5 seconds
Range - 300-500 miles
Canoo EV
Year of Launch: 2023
Starting: $30,000-$50,000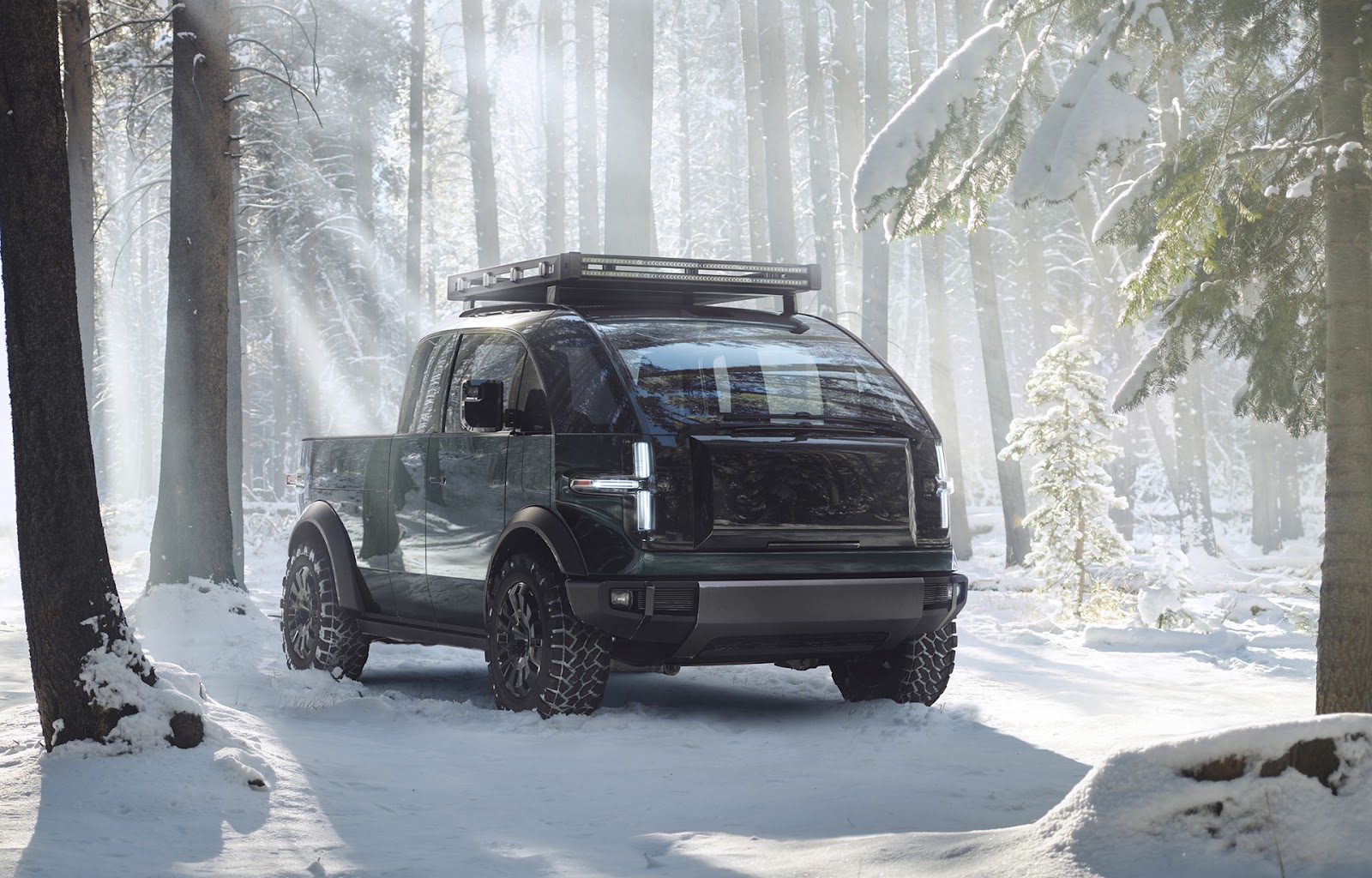 This notch-nosed EV truck will be available in the first quarter of next year. Even with its unusual appearance, it may be able to capture some market share due to its high customizability and amazing specifications.
It will come with a bed extender, customizable rear seats to increase bed length, metal skid plates, and integrated tow hooks.
It will be available in a Single Motor as well as a Dual Motor setup with AWD capabilities and a claimed range of 250 miles and 200 miles, respectively from its 80 kWh battery.
Power - 300 hp (600hp for dual motor)
Peak Torque - 332 lb-ft (550 lb-ft for dual motor)
Towing - 7,700 lbs
Payload - 1800 lbs
0-60 mph in 6.9 seconds
Range - 200-250 miles
Hummer EV Pick-up
Year of Launch: 2021 (Shipping starts this year)
Starting: $79,995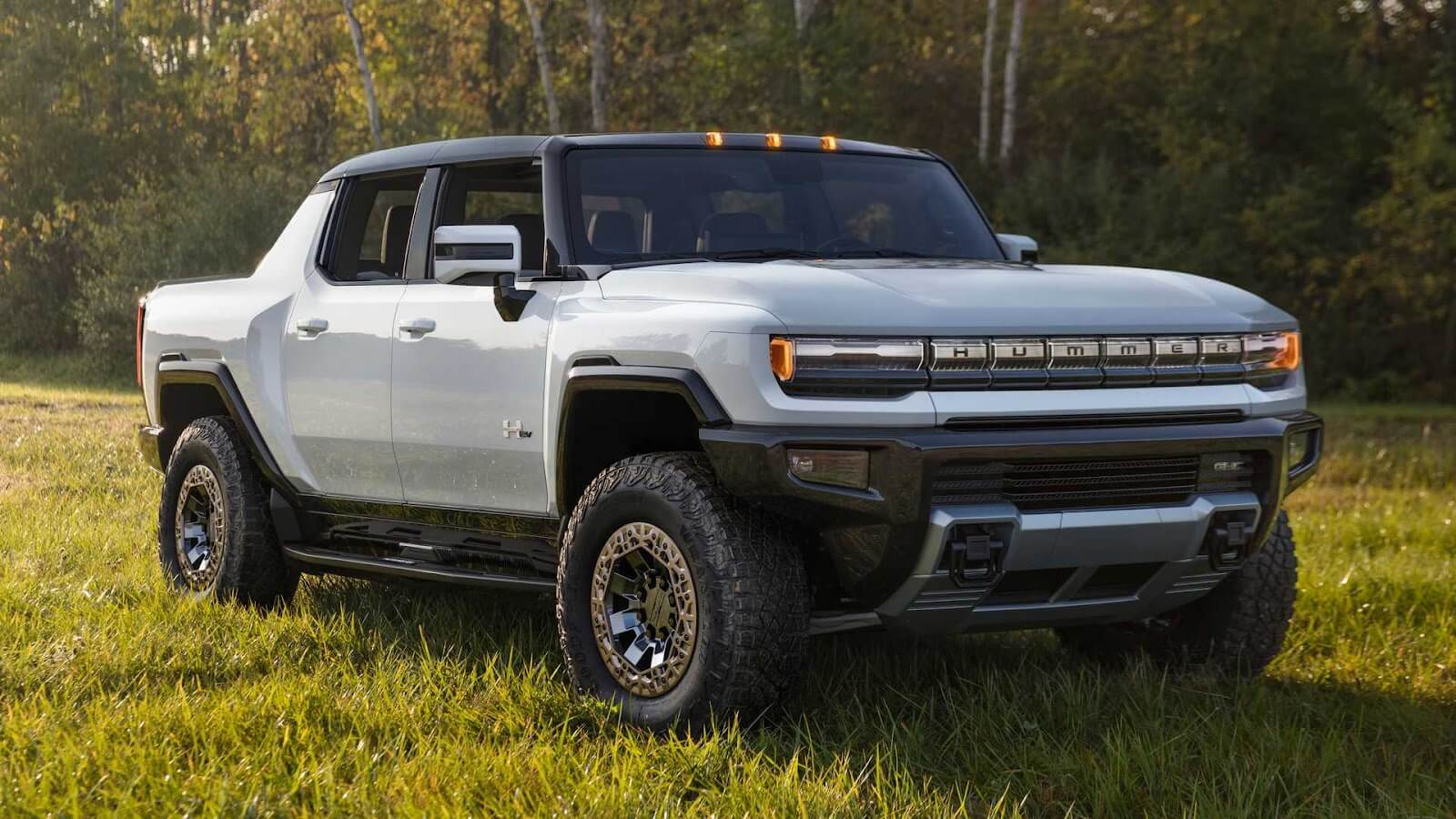 This GM giant is ready to hit the trails this year. With a large 200kWh battery, range will no longer be an issue. The Hummer EV boasts a luxurious but functional design. There is also a lot of technology within.
Its multipurpose LED headlights show the battery percentage in a bar format. In addition, GM has included its Level 2 Autonomy SuperCruise function to provide a stress-free driving experience.
The hummer comes standard with 35 inch tires but there is also a 37 inch optional package. It has adaptive independent air suspension on all four corners which can adjust over 500 times a second depending on the road conditions and can give it a max ground clearance of 16 inches.
Despite its high ground clearance, the Hummer comes standard with underbody armor to provide drivers with complete peace of mind when venturing off-road.
It is also effortlessly maneuverable in tight corners thanks to independent steering on all four wheels.
It can also turn the tires in the same direction allowing it to go diagonally, which is known as the Crab Mode.
It has a 12.3 inch digital gauge cluster with a 13.4 inch touch screen for the center console which allows you to control almost everything in the car as well as check the Roll, Pitch and other off road stats.
GM claims that the Hummer can gain 100 miles of range in just 10 mins with a 350 kW/800 V DC fast charging.
Power - 1000 hp (4 electric motors - one on each wheel)
Peak Torque - 1045 lb-ft (11,500 lb-ft at wheels)
Towing - 7,500 lbs
Payload - 1300 lbs
0-60 mph in under 3 seconds
Range - 350 miles
Rivian R1T
Year of Launch: 2022
Starting: $67,500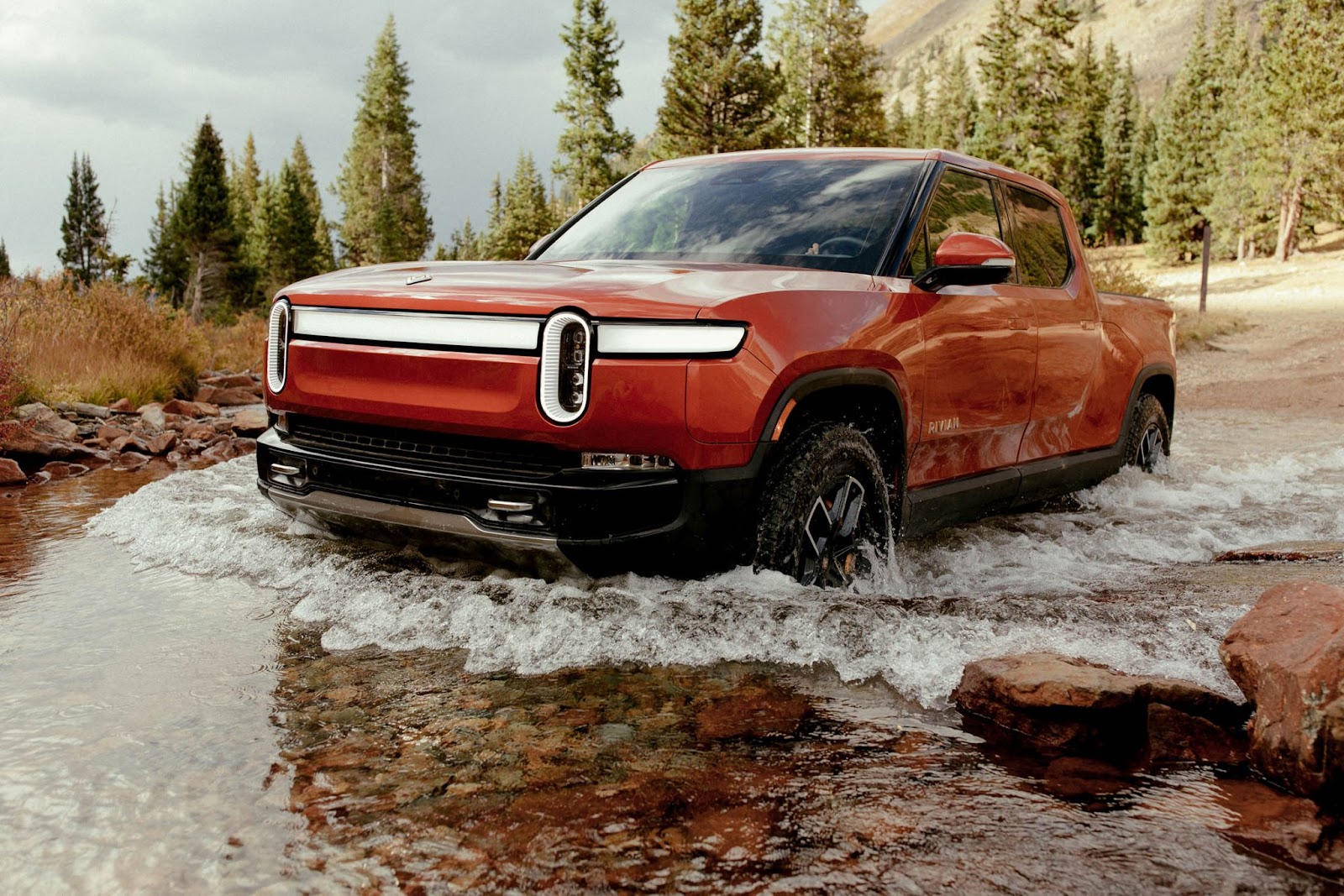 This Amazon backed startup is making the rounds. The R1T has been named the 2022 Truck of the Year by MotorTrend and labeled Editor's choice by Edmunds. It offers all of the conveniences you'd expect from a truck, and then more.
It boasts heated seats and a built-in air compressor for re-inflating the tires after off-roading.
With the air suspension adjusted to the maximum, it gains an additional 6.5 inches of ground clearance, for a total of 14.9 inches.
There is a 12.3 inch digital gauge cluster with a larger 15.3 inch center screen to control the media and other features. It gets Vegan leather and also has LTE and hotspot capabilities. Rivian has a screen at the back of the center console to allow rear passengers to control aircon flow and use climate control.
It comes with a 135 kW battery but will be equipped with a longer range optional battery in the "Max Pack" which will give a range of 314 miles (EPA rating).
Power - 835 hp (4 motors)
Peak Torque - 908 lb-ft
Towing - 11,000 lbs
Payload - 1760 lbs
0-60 mph in 3 seconds
Range - 314 miles
Tesla Cybertruck
Year of Launch:2023
Starting: $39,900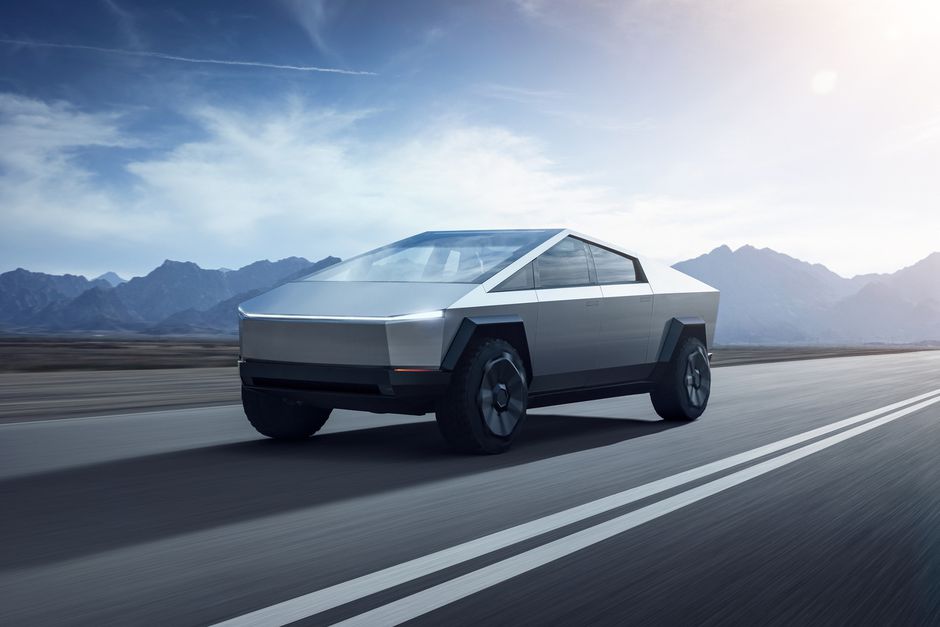 The futuristic but boxy look of the Cybertruck is sure to get a lot of attention on the road. It has a body made from cold rolled stainless steel layering the Tesla Armor Glass (for the windows) within.
It will be available in three different configurations: Single motor ($39,900), Dual motor AWD ($49,900), and Tri motor AWD ($69,900). A quad motor option may be available in the future, but this has yet to be verified, despite Musk's tweet hinting that it will be the first version to be released.

Power (est) - 400-800 hp
Peak Torque - 824-1000 lb-ft
Towing - 7,500-14000 lbs
Payload - 3,500 lbs
0-60 mph in 2.9 seconds in Tri Motor (6.5 seconds for Single and 4.5 for Dual Motor)
Range - 250-500 miles
Range - 250-500 miles
Chevrolet Silverado
Year of Launch:2023
Starting: $46,685 ($106,695 for RST First Edition)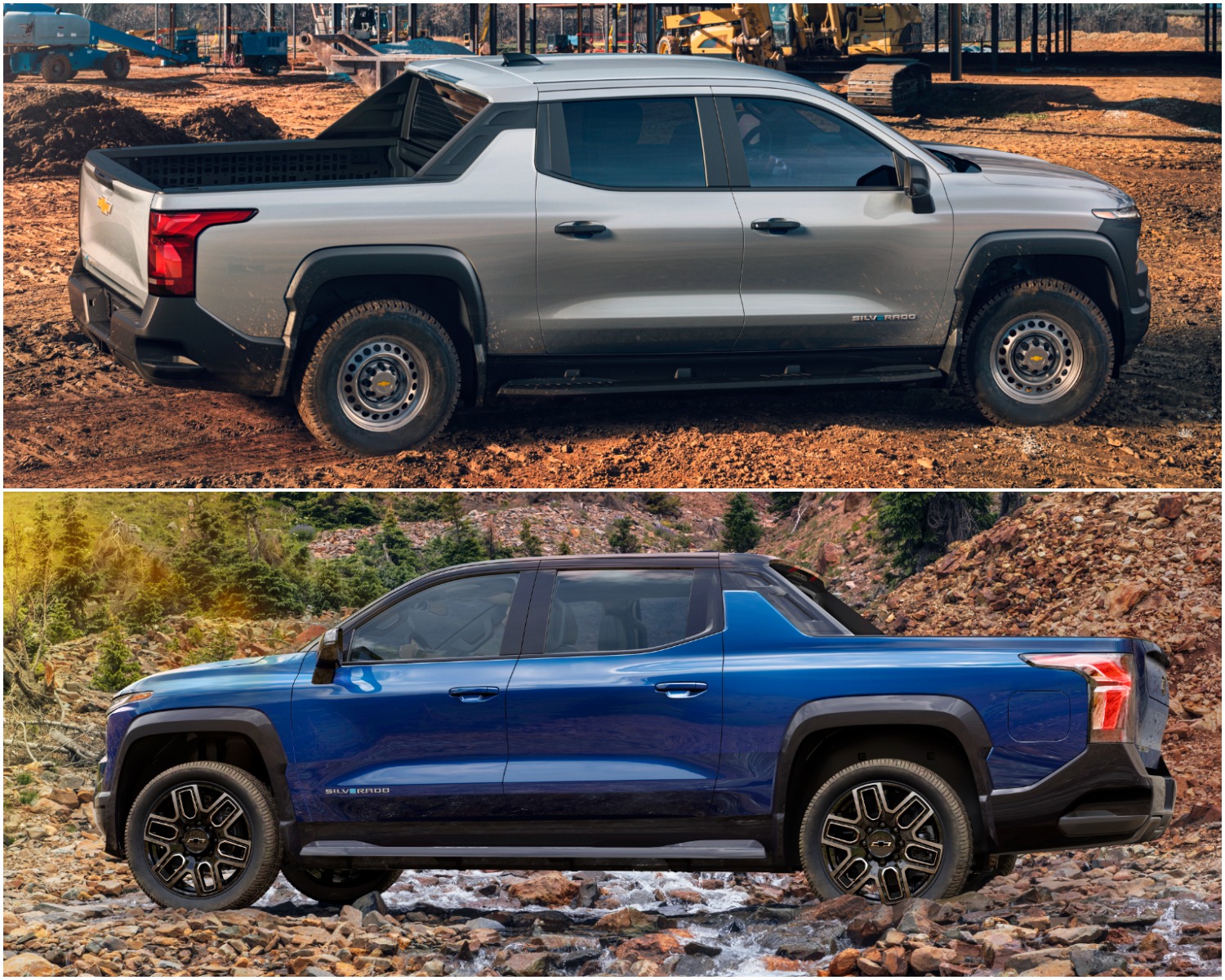 This upcoming EV truck, like the GMC Hummer EV and Cadillac Lyriq, will be based on GM's Ultium battery pack and will have specifications that outperform its competitors. It has a battery capacity of 250 kWh and a range of 400 miles (estimated). You can gain 100 miles of range in 10 minutes thanks to the 350 kW DC fast charging capability. Chevrolet promises that this new pickup will be powerful, functional, and luxurious.
It has multi flex midgate and tailgate design to increase the bed size from 5ft 11in to 10ft 10in.
Four-wheel steering ensures that city runs, tight off-road tracks, and parking spots are not a problem.
It will come equipped with GM's SuperCruise to make long drives easier and safer.
It has a 11 inch fully digital gauge cluster as well as a 17 inch touchscreen in the center console with a built-in Google assistant.
Chevy will first introduce the RST and Work Truck trim levels, followed by the fleet trucks, which will have a towing capacity of 20,000 pounds.
Work Truck:
Power (est) - 510 hp
Peak Torque -615 lb-ft
Towing - 8000 lbs
Payload - 1200 lbs
Range - 400 miles
RST:
Power (est) - 664 hp
Peak Torque -780 lb-ft
Towing -10,000 lbs
Payload - 1300 lbs
0-60 mph in 4.5 seconds
Range - 400 miles
Folks may be skeptical of having an electric truck and whether or not it will be reliable. However, most companies guarantee warranties of up to 8 years for their electrical components, which much outweighs the warranty for internal combustion engines. EVs produce torque instantaneously, allowing them to be excellent off roaders and to tow and carry high loads with ease.
These pickups provide customers a way to make their daily life easier by eliminating long lines at the gas station, as well as a low end torque. Moreover, EV manufacturers have also made significant investments in technology and features to make the transition seamless and a no-brainer for customers looking for a pickup.