Sales Hours
09:00 AM to 06:00 PM
Virtual Appointment
unavailabile - 10538
Home Delivery
unavailabile - 10538
Test Drive
unavailabile - 10538

View Gallery
Dealership Services -
service
finance
sales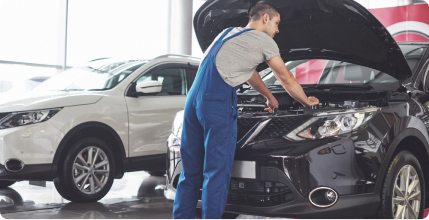 Perfect Auto Service Here
We promise to deliver the best car service or repar facilities at affordable price. the service department staff is very well trained for all types of repair or vehicle service. We use only genuine parts and accessories while service your car or truck
Review From Google (Most relevant)
My 16 year old daughter bought a 2012 Fiat and we have requested the service department to call us on parts that only Fiat can provide. We are always told that someone would call back from the service department but we never get a call. We both have called numerous times. Highly disappointed as we ... Read More
Thiago and Oliver were the best at helping us secure the right Fiat and the right financing for our family. We love our new Fiat 500x and really enjoyed hearing the history of this long standing Fiat dealership which has a history dating back to 1961! We highly recommend using Fiat of Larchmont!
Great service. Had my Fiat 500c back in less than one hour. New battery, oil change and it feels like it has new life. My little Italian car (fiat) served my well yesterday in the snow storm that stopped New York. (Nov 2018) Small enough to fit through tight traffic. Economical enough to not run o... Read More
DO NOT GO TO THE SERVICE DEPT. STEVE took close to 4 WEEKS to REFUND me the difference after overcharging me for a light bulb change! The absolute nightmare of an experience to call them after waiting days/weeks. On top of that, he has the audacity to have an attitude in dealing with the customer l... Read More
Thiago was very personable, polite, and put with my many antics on delivery day for my Stelvio! Oliver jumped in on the assist for the financials, making that a breeze to get through. Overall it was a great experience and would highly recommend Fiat of Larchmont. Keep up the great work!
I had the interesting experience of the dealership having neither phone nor internet service due to a recent storm when I wanted to purchase my car. Thiago, the product specialist, phoned on his personal number to help make that happen. I had gone in on a Saturday and by Monday, I had the keys, regi... Read More
I have owned my car for 4 years. In that time, I have had 1 oil change that was not with the dealership. Every time I have brought my car there, something has been done incorrectly or there has been further damage. They replaced an outdoor handle & the inside handle came back with a huge scratch in ... Read More
I popped in after brunch at a nearby place and ended up leaving with a new Alfa Romeo. It's small enough to provide attention to each buyer, but has a substantial inventory. Delivery of the new vehicle was lengthy and I feel I got a reasonably good deal. I have since used the service department for ... Read More