Sales Hours
Currently Closed
Virtual Appointment
unavailabile - 60195
Home Delivery
unavailabile - 60195
Test Drive
unavailabile - 60195
Dealership Services -
service
finance
sales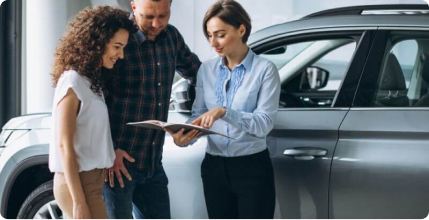 Used Cars for sale
Browse our large selection of new or used cars, trucks, suvs and vans for sale at your trust dealership at cheapest price. Visit our dealership to fulfil all automotive needs.
Review From Google (Most relevant)
I booked an appointment 2 weeks ahead of time. Dropped my car off and talked to someone about service. That was 3 1/2 weeks ago. They lost my car, cancelled the appointment and didn't call me. I called a week later to find out they lost my car and told them where it was (right outside the exit), ... Read More
Good luck finding a warm body to answer the phones. You're lucky if you can get a hold of someone's voicemail, however you will never get a call back so don't bother.
I walked in for my wipers being replaced on my Fiat. They had the wipers, great customer service and got it done in the time they said they would and cleaned the outside and vacuumed the inside of my car. Looked beautiful! Thank you Tim and all the service/parts crew and the front desk staff!!
One of the worst places to bring your car for service. I own Fiat 500, and have an issue with a gas tank. I made an appointment, dropped off the vehicle, and it took them 4 days to just diagnose it. They DO NOT answer the phone nor return v/m. When I came to the place, the phone was just on mute rin... Read More
Terrible service. No communication unless you call yourself. I have a lifetime warranty on my Fiat 500L so I have no choice but to go to the dealer for certain repairs or else the warranty is Void. It has taken a whole day for an oil change before. Currently my car has been at the dealer for 4 days ... Read More
Went to Zeigler to have our Fiat500X looked at this morning . It is stressful when you don't know what is wrong with your vehicle... Raul Manzanares was very personable & knowledgeable. He listened to what I had to say and gave me feedback I could understand. That meant so much to me. He explained ... Read More
Right before Christmas 2019 I had issues with my car and John Cnota and Greg handled everything and I received an outcome within a few days and recommendations of what needs to be done. My car was washed on the outside and vacuumed inside on top of it. Great service, keep up the good work!
They only have few bays of service. They mostly do maintenance or else its sent else where to be repaired at. They dont even have alignment rack. I see this place as selling cars not service. We are in 2020 and still need appointment for oil change and tire rotation. Bottom line go else where!