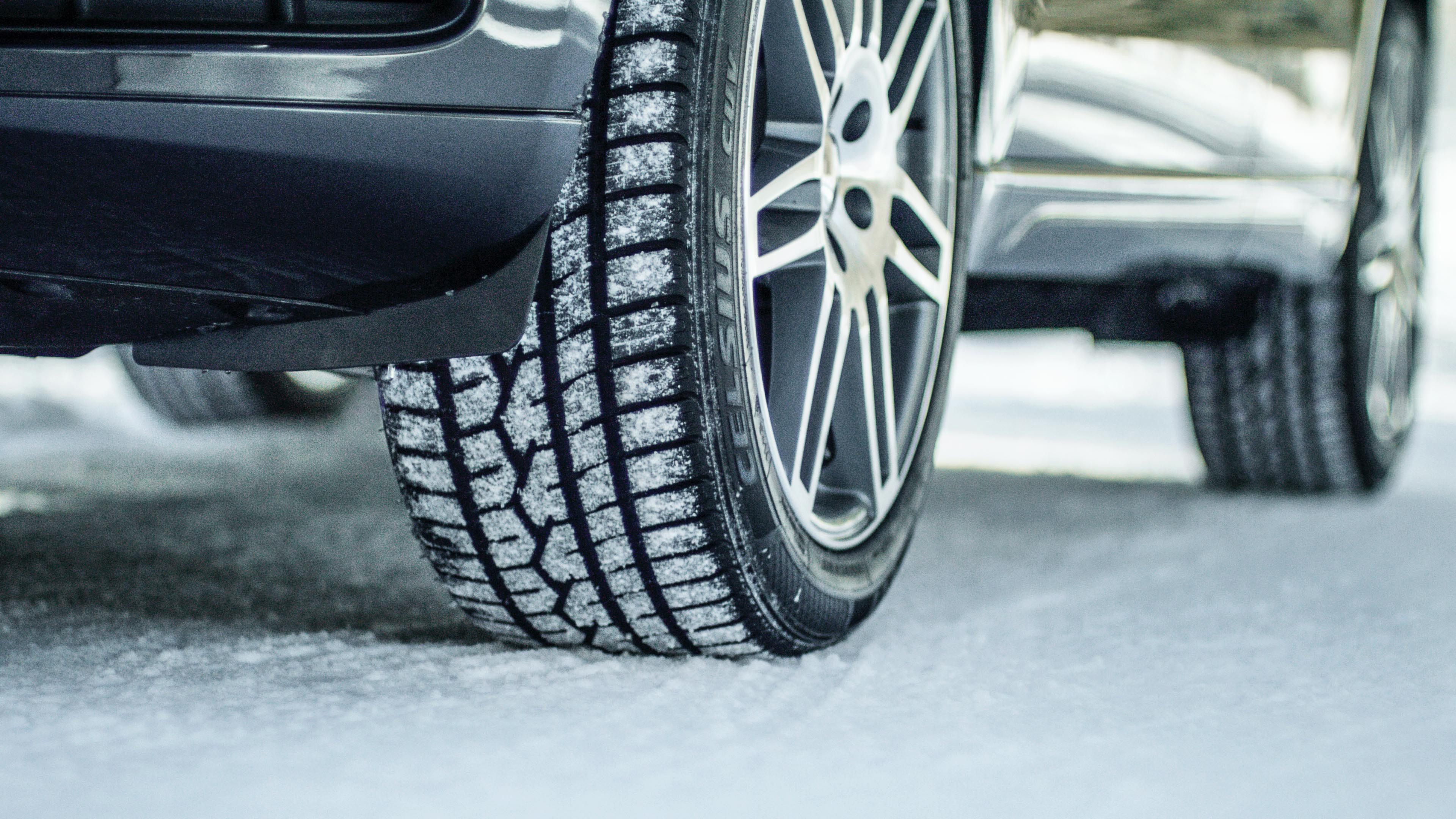 Summer Tires: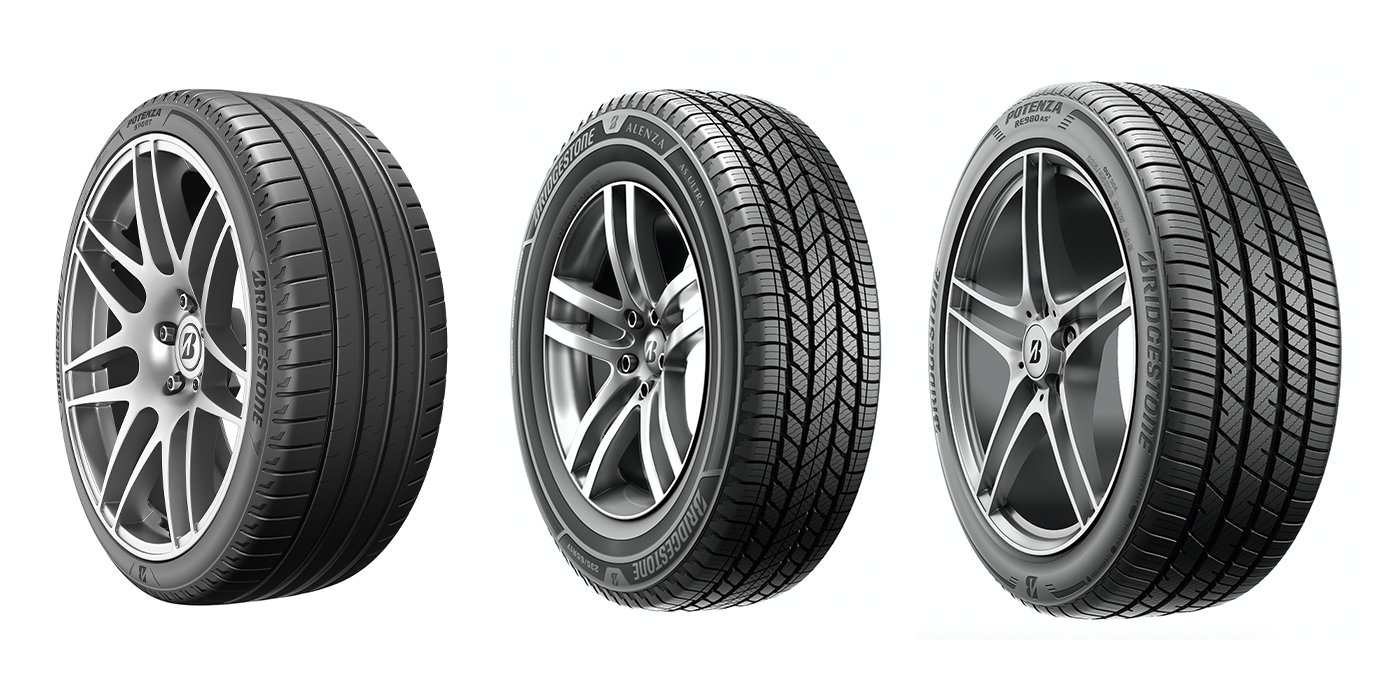 Summer tires as the name suggests are designed for hotter tarmacs. Your new car will most likely come with summer tires right out of the showroom. These tires are widely available for high-performance vehicles, but they are rarely available for SUVs and pickup trucks.
Summer tires, also known as Performance tires, have the hardest rubber compound in some cases because they are used on hotter surfaces and thus do not require as much heat (tires require heat so that the rubber compound becomes stickier) to stick to the tarmac.
They are wider than other tires and hence make a lot more noise because they are designed for performance.
Performance:
They are intended to have the greatest possible contact patch with the road.
They are wider and have shallower tread patterns to increase the surface area of the tires.
They also have narrower sidewalls, which improves tire rigidity.
The increased contact patch reduces fuel efficiency by increasing tire resistance.
Summer tires are designed to perform best above 7°C and have slightly shorter braking distances than all-season or winter tires at such temperatures. They are also intended to perform well on both wet and dry roads in warm weather.
Summer tires include Michelin Pilot Sport 2s, Goodyear Eagle F1s, Bridgestone Potenzas, and Pirelli P Zero Trofeos.
Winter Tires: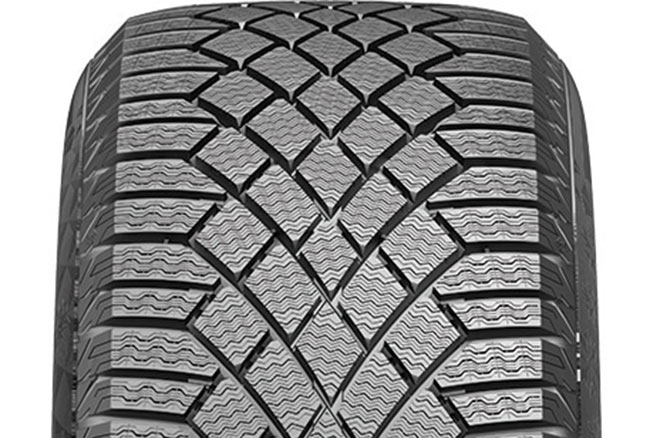 Simply looking at a winter tire, you'll notice thin grooves cut into the tread that are designed to bite into the snow for improved traction.
Winter tires have softer rubber compounds than other types of tires. This is why these tires do not require a lot of heat to adhere to the ground. They have noticeably deeper treads and more horizontal slots in the wheels to help them move through slush and icy conditions. They're also narrower, allowing them to dig into the snow and make contact with the road.
Performance: Winter tires are designed to drive on low-traction snowy surfaces. They have the innate ability to carry snow in their treads which improves wheel traction since snow on snow friction is significant towards getting more grip. Its wider channels in the chunkier tread blocks help to disperse water and clear slush.
Winter tires are noisier than summer tires.
They will also wear out faster in warmer temperatures, making them unsuitable for year-round use.
Continental Viking Contacts, Bridgestone Blizzak, Michelin X-ICE Snows, Yokohama iceGuards, and Goodyear Winter Commands are some of the winter tires.
Also Read -

All-season Tires: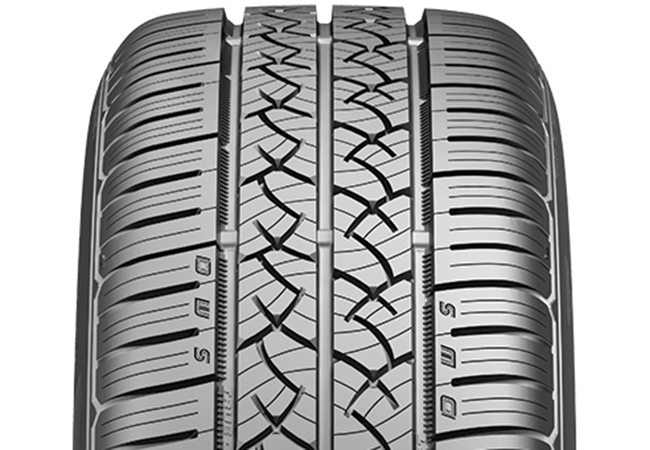 Because of their shallower profile than off-road and snow tires and narrower design than summer tires, they are quieter than other tire types. Their design also reduces rolling resistance, which improves fuel efficiency slightly. The rubber compound used in these tires is harder than that used in winter tires but softer than that used in summer tires.
Performance: All-season tires can be used in both winter and summer, but they do not perform well in extreme temperatures. They will not provide as much traction as performance tires and will not grip the road as well as winter tires during snowy seasons or subzero temperatures.
Michelin Defender LTXs, Goodyear Eagle F1 Asymmetrics, Continental True Contact Tours, and Firestone Weathergrips are some of the all-season tires.
| | | | |
| --- | --- | --- | --- |
| Tire Type | Summer | Winter | All Season |
| Tread Life | Best | Worst | Medium |
| Performance in Wet Terrain | Best | Worst | Medium |
| Performance in Dry Terrain | Best | Worst | Medium |
| Performance in Snowy Terrain | Worst | Best | Medium |
| Rubber Compound Type | Hard | Soft | Medium |
| Operating Temperature (°F) | > 45 | < 45 | It performs best around 45°F; performance degrades as temperature approaches either end of the temperature spectrum. |
Mud Terrain Tires: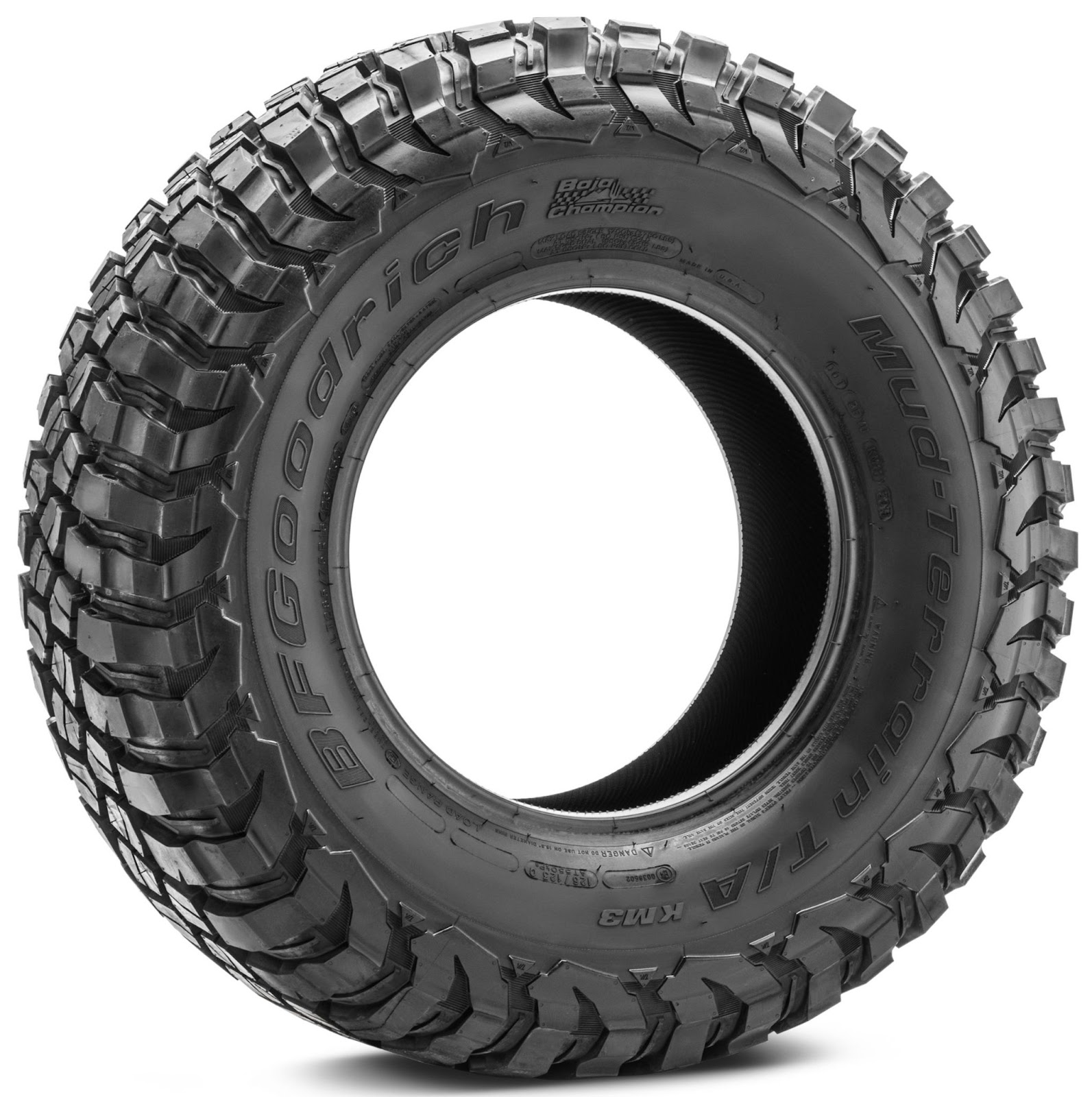 Mud terrain tires help propel the vehicle through surfaces where solid and fixed surfaces are rare. They have deep grooves which are perpendicular to the direction of motion and end up increasing tire noise on tarmac.
Performance: The deep grooves work as oars and help the tires to paddle the vehicle out of a muddy rut. These tires are also reinforced in case there is sudden contact with a rock hard object hidden in the mud. Since the mud terrain tires are softer with bigger sidewalls, they don't fare well in the corners, under sudden braking and while doing evasive maneuvers.
BFGoodrich MudTerrain KM3s, General Tire Grabber X3, Goodyear Wrangler MT/R (with Kevlar), and Cooper Discoverer STT Pro are some of the mud terrain tires.
All-Terrain Tires: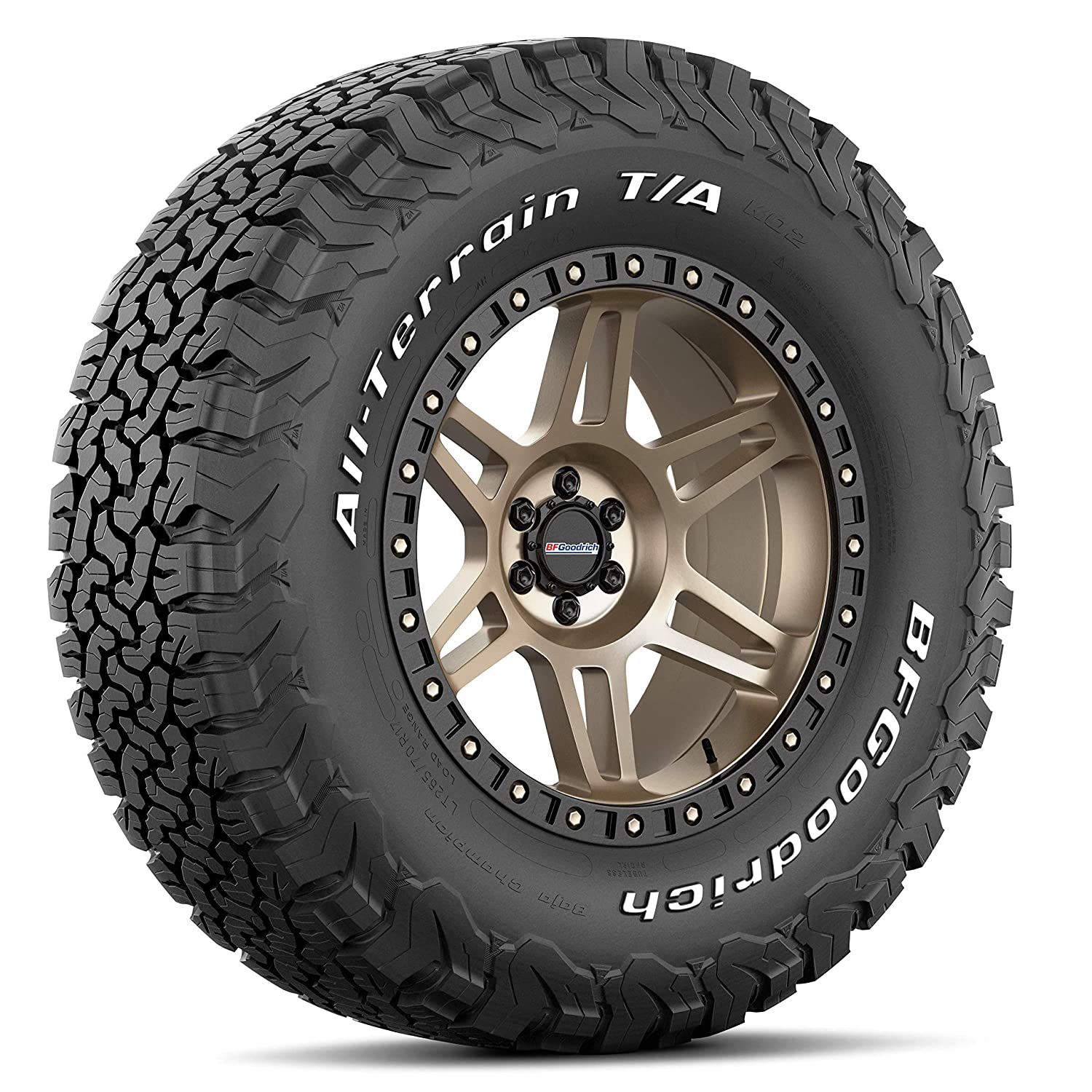 All-terrain tires, like other off-road tires, are made of softer compounds to provide excellent traction on unpaved surfaces. In turn, the soft compound reduces tire life on the road when compared to all-season tires.
Performance: These tires are capable of handling most driving conditions, both on and off the road. They perform well in snowy conditions due to their deep treads, which also means they perform well in mud. They are sometimes reinforced so that you can drive at high speeds on off-road trails or rock crawl without fear of puncturing your tires.
BFGoodrich KO2s, Yokohama Geolander GO15s, Goodyear Wrangler Adventures with Kevlar, General Grabber A/TXs, and Falken WildPeak A/T3Ws are some of the all-terrain tires.
Rock Crawler Tires: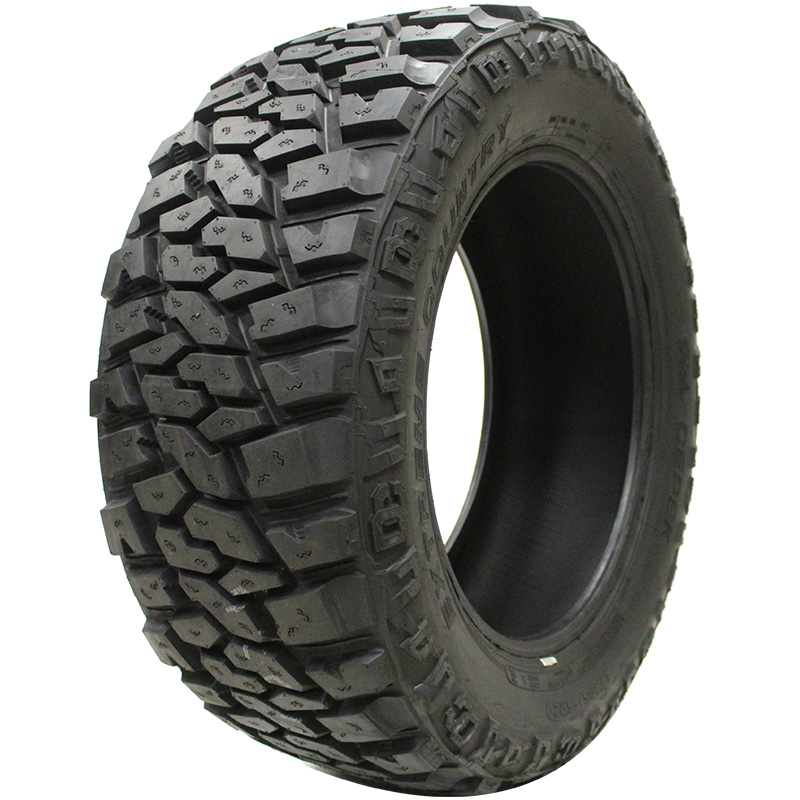 These tires are reinforced and made of soft compounds, allowing them to easily grip rocks and slippery surfaces without puncturing.
Performance: These are best for desert running and high-speed off-road adventures, but due to the large treads, they won't last long on the road and will make a lot of tire noise.
BFGoodrich Krawler KX, Mickey Thompson Baja Claw, Goodyear Wrangler MT/R (with Kevlar), Cooper Discoverer STT Pro, and Dick Cepek Extreme Country are some of the rock crawler tires.
FAQ's
Can you use summer tires all year long?
If you live in an area where the temperature does not fall below 45°F, you can use summer tires all year. They have the longest tread life and perform best in both dry and wet conditions. If the temperature falls below 45°F, it is best to switch to all-season or winter tires (if the winters become too cold), because summer tires do not receive enough heat for their compound to become sticky.
Can you mix summer and winter tires?
It is best to avoid it because the two types operate at different temperatures. As a result, if one set is not at the proper operating temperature while the other is, you may not get as much grip from the tires and, in some cases, the vehicle may spin. To avoid mishaps, all four tires must always be of the same type.