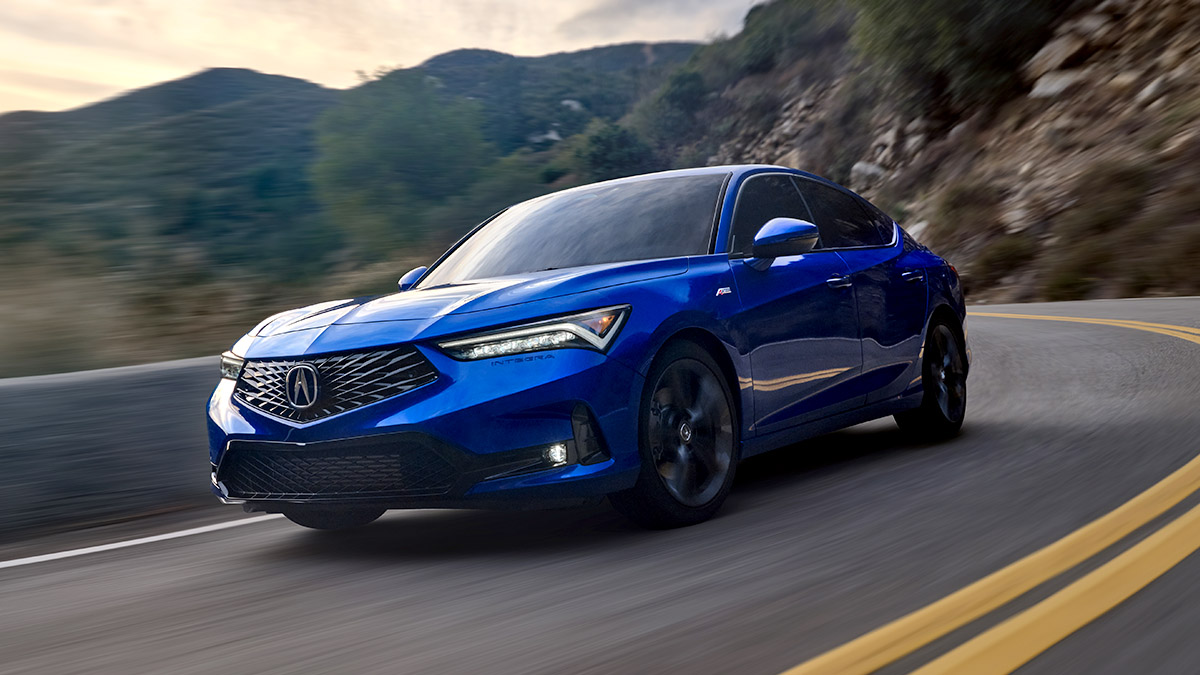 With a nostalgic design influenced by Acura's first-ever racing car, the next-gen Integra racer pays homage to the company's motorsports legacy.
Acura will compete in the famous hill climb with five race vehicles, each driven and crewed by Acura's R&D personnel.
To break existing records, two Acura TLX Type S sports sedans, and two Acura NSX Type S supercars will be used.
In "Race to the Clouds," adventure racer Renée Brinkerhoff will operate an NSX Type S pace car.
The 2023 Acura Integra will make its racing debut on June 26 at The Broadmoor Pikes Peak International Hill Climb, delivered by Gran Turismo, and will be available at Acura dealers nationwide later this month. The next-generation Integra will compete in the 100th "Race to the Clouds" alongside four production-based Acura race vehicles, including two NSX Type S supercars, all of which will be equipped, piloted, and staffed by a crew of volunteer engineers from Acura's R&D headquarters in Ohio.
The race-equipped Integra's red, grey, and white paintwork pays homage to Acura's first-ever racing vehicle, which was driven by Pikes Peak rookie Paul Hubers. This classic visual scheme debuted on the first-generation Integra, which ended up winning back-to-back IMSA Championships with Parker Johnstone in 1987 and 1988.
The Hill Climb would showcase the capabilities of the next-generation Integra, which will be available in Acura dealerships across the United States later this month. The Pikes Peak Hill Climb in Colorado, which has been running since 1916 and entails rising from 9,390 feet to 14,115 feet, is also known as the "Race to the Clouds". The 156-turn, 12.42-mile mountain circuit must be navigated by the drivers in the quickest time possible.
Engineers added stronger brakes, suspension, and differential, all compliments of Honda Performance Development, to prepare the next-generation Acura Integra for its inaugural race (HPD).
Also Read: Acura Teases Its AR-06 LMDh Prototype In Camouflage
The race-ready Integra rides on lightweight 18x9-inch HRE rims with 245-series Pirelli racing tires, still powered by its factory turbocharged 1.5-liter engine and 6-speed manual transmission.
At this year's event, two race-ready variants of the limited-production 2022 Acura NSX Type S, the most powerful and best-performing Acura ever, will also make their debut. These mid-engine supercars will be piloted by brothers James and Nick Robinson as they aim to beat previous records, most notably James Robinson's current hybrid fuel class record, set in 2020.
Renée Brinkerhoff will operate an extra NSX Type S as the official pace motor for the hill climb event. Brinkerhoff, the founder of Valkyrie Racing, has raced on all seven continents, including Antarctica. She is the only woman in history to have finished third in the legendary La Carrera Panamericana Mexican Rally three times, including a class win in her debut (2013).

SOURCE Acura

Looking for a used Acura car near you? Check out all Acura cars here.